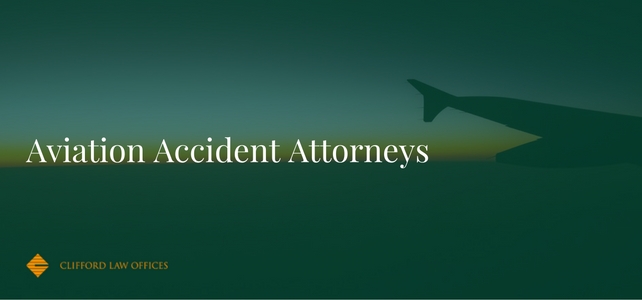 Clifford Law Offices is one of the nation's premier aviation law firms, and our aviation accident practice group is among the most experienced in the world. We have more than 30 years of experience. Here are a few examples of our results throughout the years.
2011
Caribbean Airlines Flight 523
A scheduled international flight from JFK Airport in New York crashes upon landing in Guyana, nearly plunging into a ravine. Clifford Law Offices represented five individuals who were injured in cases filed in New York federal court under the Montreal Convention.
2005
Southwest Airlines Flight 1248
Flight 1248 crashed through a barrier and into traffic, killing six-year-old Joshua Woods in the back seat of his family's car. Other members of his family were injured. Clifford Law Offices obtained a confidential settlement amount.
2000
Alaska Air Flight 261
Clifford Law obtained more than $40 million in settlements for seven families after Flight 261 crashed in the Pacific Ocean. Nearly 100 depositions were needed to determine that a faulty jackscrew system caused the crash that killed all 88 aboard.
1999
American Airlines Flight 1420
The flight crew was unable to control Flight 1420 during inclement weather, causing the aircraft to overshoot the runway and crash into a chain-link fence in Little Rock, Arkansas. The captain and ten passengers were killed, and the first officer, four flight attendants and 105 passengers were injured. Clifford Law Offices settled the case of two brothers who survived.
1994
USAir Flight 427
All 132 passengers on Flight 427 were killed during landing due to a rudder malfunction. The FAA enacted three modifications to the aircraft to prevent future air catastrophes. Clifford Law Offices obtained $54 million for the families it represented.
Clifford Law Offices has been involved in nearly every major aviation accident case in the United States during the past three decades. To view more of our aviation accident results, click here.