Legal Help Following Devastating Surgical Errors
Unfortunately, surgical errors are not uncommon and can lead to additional injuries, worsening conditions, and even death. If you suffered an injury due to surgical negligence or lost a loved one under the care of a medical professional, it is wise to seek the counsel of a skilled personal injury attorney.
Headquartered in Chicago, Clifford Law Offices has extensive experience representing injured clients throughout Illinois. We understand that individuals will likely have numerous questions, including:
What are the common causes of surgical errors?
Can faulty medical equipment lead to surgical errors?
Who can be held liable if the surgery goes wrong?
Can I receive monetary compensation after the loss of a loved one?
Our team of dedicated professionals will answer your questions and provide the aggressive legal representation you need. Call us to set up an appointment; initial consultations are always free. Discuss the details of your surgical error, and we will explain how we can help.
There Are Numerous Types of Surgical Errors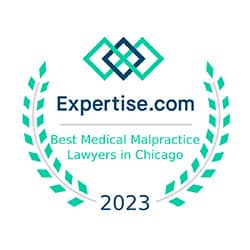 Unfortunately, medical negligence comes in many forms. Just as patient needs vary considerably from person to person, so does medical malpractice. When it comes to the specific category of surgical negligence, the possibilities are still varied. A surgeon and his/her staff can make several mistakes in the operating room that have adverse outcomes, leaving patients with devastating injuries. Our lawyers are prepared to handle cases involving:
Wrong site surgery
Bowel perforation
Nicking of an artery
Faulty medical equipment
Defective medical implants
Surgical implements left in the body
Removal of the wrong organ or limb
Errors in anesthesiology
Failure to monitor vital signs
Poor training
Distractions in the surgical theater
According to statistics published in American Medical News, patients in the United States suffer surgical mistakes that should have never happened (such as leaving a medical instrument inside a patient) about 80 times each week. These "never" accidents, if they are directly tied to negligence and cause injury or death, can lead to a medical malpractice suit.
Why is it Important to Hire a Lawyer?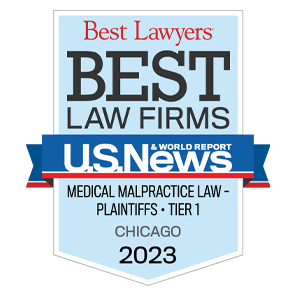 Medical malpractice and surgical errors are some of the most extreme forms of professional negligence that can occur. Careless negligence, wanton disregard for others' safety, and misconduct in a medical setting can change a patient's life permanently. If you have suffered serious injuries such as wrong-site surgery or an object left in the body cavity, discuss your case with one of our attorneys.
Retaining a lawyer early is crucial in a medical malpractice claim. The Illinois Supreme Court recently ruled that capping damages in medical malpractice cases is unconstitutional. This means there is no limit on the amount of compensation an injured party can receive during a medical malpractice claim. Considering the costs of healthcare in the aftermath of such an injury, lost income from missing work, and that the potential loss of future earnings can be innumerable, this is a win for victims.
An attorney can ensure complex settlement negotiations go smoothly. It also means insurance companies will be less likely to manipulate you into a lower settlement. With results-driven lawyers dedicated to your case, you can rest easy going up against big corporations in complex malpractice claims.
What to Do After a Surgical Error
The moment you suspect an unexpected complication arose due to medical malpractice and not an assumed risk of surgery, contact one of our attorneys. Speaking with a lawyer first will help ensure the protection of your rights. Otherwise, you may find yourself accidentally forfeiting some rights by accepting a low-ball settlement offer or missing an important filing deadline. Your top priorities should be your health, safety, and future – we can help with the rest.
Discussing your case with a lawyer will give you information about your rights and options moving forward. Your lawyer may recommend that you begin to document your case, keeping a record of things such as your surgeon's information, the date of the operation, and the symptoms you are currently experiencing. If you need to file an insurance claim regarding your injuries, your attorney can help with the paperwork. Remember, Clifford Law Offices does not charge anything for legal services unless we win.
Discuss Your Case With an Attorney
A surgical error can impact the rest of your life. A nicked artery, damaged nerve, internal bleeding, or an anesthesia error could mean permanent disability, a long recovery, or even death. If victims are able to recover, they face thousands of dollars in medical costs and a lifetime of anxiety. With questions about surgical errors, schedule a free consultation at Clifford Law Offices. We can be reached at (312) 899-9090 or by contacting us.