Chicago Truck Accident Lawyer
Truck accidents and injuries can cause multiple damages. In some cases, they even result in death. In Illinois, Chicago truck accident attorneys have the experience and background to confidently fight for the rights of victims and the results they deserve. From initial depositions through final court proceedings, our Chicago truck accident lawyers represent the clients' best interests.
In Illinois, there are numerous interstate highways. With those major highways comes enormous truck traffic. The National Highway Traffic Safety Administration (NHTSA) reports on trucking accidents every year. Despite authorities attempting to keep the highways safe, accidents involving trucks continue to occur in Illinois and throughout the country. The massive weight of these big rigs, particularly at highway speeds, can lead to collisions that result in death or catastrophic personal injury. In the midst of what is often an emotionally charged situation, our Chicago truck accident attorneys can alleviate some of this frustration by taking charge of the time- and energy-consuming legal actions.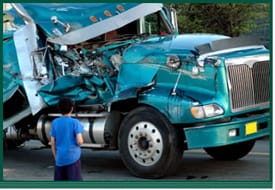 When it comes to statistics, Chicago truck accident lawyers know the importance of truck accident data. The NHTSA reports that in 2010, 32,885 people died in motor vehicle accidents, which included 3,675 killed involving large trucks, an 8.7 percent increase over the previous year. It should be noted that these statistics deal with large trucks that are defined by the national government as those that carry a gross vehicle weight greater than 10,000 pounds. In Illinois alone, there were 927 vehicle fatalities in 2010, a 16 percent increase over 2009.
Truck Accident Injuries? Talk to Chicago Truck Accident Attorneys
Clifford Law Offices has been representing victims of serious truck and car accidents for 30 years. The attorneys' combined experience at the firm adds up to hundreds of years of personal injury and wrongful death work. At Clifford Law Offices, Chicago truck accident lawyers will examine the cause of the crash to determine if it was due to truck maintenance, driver fatigue, driver negligence, speed, alcohol use, failure to inspect, improper loading, tire blowouts, sudden braking, brake failure, unsafe safety systems or warning devices, failure to yield the right of way, tailgating, extensive work shifts, jackknifing, or unsafe road conditions. The law firm also will examine truck accident victims' losses that include medical expenses, lost wages, future earnings, future medical care, pain and suffering, grief, sorrow and mental suffering, loss of quality of life, and other possible damage claims.
Federal law requires commercial vehicles traveling in interstate commerce to carry insurance for bodily injury and property damage. In addition, most states also impose minimum insurance requirements on trucks.
Our Truck Accident Attorneys Know How To Achieve Results
In 2005, Clifford's own Chicago truck accident attorney, Kevin Durkin, tried a case before a jury in Cook County Circuit Court and reached a $38.3 million verdict on behalf of a Chicago suburban family involved in a tragic trucking crash on an Illinois interstate highway. It was the largest transportation verdict in the country in 2005, as reported by The National Law Journal. In another case, Robert Clifford reached a settlement for $3 million in 2005 on behalf of the family of a woman who was killed when a pick-up truck crossed the center line of traffic and struck her car. In 2006, Kevin Durkin reached a $2.25 million settlement with a trucking firm after its driver lost control of his vehicle and struck the car of a young mother of two in Indiana, killing her. Later, Richard Burke settled a case for $1.65 million on behalf of the family of a 26-year-old man who was killed on a Chicago expressway when he was stopped behind a jack-knifed truck and a second truck rear-ended him, forcing him into the first truck. Robert Clifford obtained a $14 million verdict on behalf of an Elgin woman who was severely injured in a head-on collision with a Commonwealth Edison truck.
The firm recently obtained a one-million-dollar settlement on behalf of an 87-year-old woman who sustained cervical injuries and then died after a truck made a left-hand turn in front of a car in which she was a passenger. Clifford Law Offices also represented two young children who suffered injuries when a tractor-trailer truck lost control striking them as it crashed into a CTA station in Chinatown. Kevin Durkin and Sean Driscoll obtained a $4.1 million verdict in a 2013 case when a woman was struck by a garbage truck and suffered brain injury and a fractured shoulder on Chicago's north side. Also in 2013, attorneys Durkin, Driscoll and Bob Clifford obtained a $5.75 million settlement for a man who was left wheelchair-bound following his being struck by a truck as he attempted to cross a street near O'Hare Airport. Kevin Durkin obtained a $3.9 million settlement on behalf of a woman who suffered multiple fractures while driving in her SUV that was cut off by a semi-truck in Will County, Illinois.
Bob Clifford was interviewed by CBS-Channel 2 investigative reporter Pam Zekman on a story that appeared on the 10 o'clock news in Chicago in 2014 about the dangers of truckers who work too long of hours on the road, in violation of federal law. That apparently was the case involving a terrible tragedy on I-55 when a truck was reportedly speeding in a construction zone causing an accident involving three cars that killed four people from Illinois and injured four others. Small children were involved in this terrible tragedy that has saddened people throughout Illinois, particularly those in the communities were they were so loved. And now comes word from some media outlets that the trucker may have falsified his log about his hours. Bob Clifford spoke about this type of misconduct to Zekman and said that the federal government must work harder to ensure that truckers are following rules that are set out to make the roads safer.
All of these tragic crashes required experienced of Chicago truck accident lawyers. The drivers and the truck companies must be held accountable for their negligent actions. Clifford Law Offices represented these families and got the answers that they deserved. Please call Clifford Law Offices, experienced Chicago truck accident attorneys, at (312) 899-9090.
The Chicago truck accident lawyers at Clifford Law Offices have successfully handled many cases ranging from truck wrecks to aviation disasters and are always available for consultations.