Clifford Law Offices is Chicago's premiere medical malpractice law firm.  Our attorneys have significant experience handling medical malpractice claims and have recovered hundreds of millions of dollars on behalf of injured patients.  The unfortunate fact is that medical malpractice often leaves patients with permanent injury, a lifetime of medical expenses, or tragically takes their life.  While a lawsuit cannot reverse the damage done by a negligent healthcare professional, it can provide vital financial resources for families and, potentially, prevent similar errors or negligent actions from happening to other patients in the future.
At Clifford Law Offices, we understand how important a lawsuit is in these situations and do everything possible to maximize the compensation our clients recover.  In 2022 alone, our Chicago medical malpractice attorneys have recovered well over $50 million dollars on behalf of clients in medical malpractice cases, including:
$25 million recovery in October 2022 on behalf of a woman suffering from "Locked-In Syndrome" as a result of negligent treatment by a resident physician and a hospital's failure to recognize and treat a stroke.
$20 million settlement in October 2022 on behalf of a 42-year-old man and his spouse for a radiologist's alleged failure to diagnose a brain aneurysm.
$9 million recovery in September 2022 on behalf of a woman who developed cervical cancer and passed away after a Chicagoland area laboratory misread her pap smear slides
$5.2 million verdict in July 2022 on behalf of a family who lost their unborn child at 16 weeks.
$5 million recovery in March 2022 on behalf of the family of a 20-year-old male who died due to a failure to timely diagnose and treat seizure and brain swelling.
Navigate This Page
What Is Malpractice, and What Should You Do About It?
Medical malpractice is a legal term that describes negligence that results in death or injury by a healthcare provider who fails to adhere to the accepted standards of practice and care for the relevant procedure. This includes doctors, nurses, technicians, pathologists, hospitals, nursing home facilities, and any person that provides medical care.
The Illinois Supreme Court recently ruled that caps on damages involving medical malpractice cases are unconstitutional. It is the third time that the state's highest court made that finding, eliminating limits in medical negligence cases. This lack of a cap means that medical providers, medical facilities, and their insurance companies fiercely contest malpractice claims. As such, it is important to choose an attorney who can stand up to these large entities and fight for justice on your behalf. It is also vital that you seek help right away, as insurance companies often launch their lawyers into action immediately upon learning of potential malpractice.
The Causes of Medical Malpractice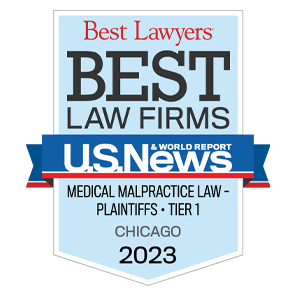 Medical malpractice is always preventable. When it occurs, it is due to careless errors or negligence from medical professionals. Overworked nurses, unprepared surgeons, careless physicians, and short-staffed hospitals could all cause patient harm. Proving negligence is a crucial aspect of a personal injury case. To determine negligence, your attorney will look to the cause of the incident. Common causes of medical negligence at Chicago health centers include:
Health care practitioner negligence. All physicians have a duty to adequately care for patients. This duty is broad and includes things such as making accurate diagnoses and getting informed consent before undertaking treatment. Any breach of duty, resulting in injury to a patient, may be medical malpractice.
Hospital negligence. Sometimes it is not a specific practitioner who causes patient injuries, but the way the hospital operates. Improper protocols, falling short of medical standards, lack of proper employee training, poor sanitation, and preventable miscommunications all put patient lives at risk.
Equipment failures. Injuries or deaths that arise from machines failing, abruptly shutting off, or malfunctioning during patient treatment could come down to hospital or product manufacturer liability. The hospital could be liable if lack of proper maintenance caused the defect, while a manufacturer would be liable for defects that existed upon distribution.
Determining the underlying cause of a medical injury is the first step toward securing compensation. If you believe you've suffered medical malpractice, talk with an attorney. He or she will investigate the situation, look for signs of negligence or misconduct connected to your case, and file a medical malpractice claim against the appropriate party/parties.
Elements of a Medical Malpractice Claim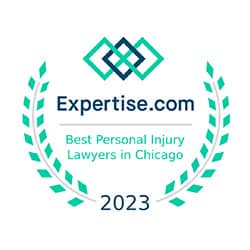 Although every medical malpractice case is unique, they all have certain traits in common. For instance, all come with a burden of proof – a burden to show the defendant is legally responsible for the patient's injury or illness. For a medical malpractice case in Illinois, you need the following four main elements:
A professional relationship. You need proof you and the defendant had a professional patient relationship at the time of your injury, through documentation and/or medical bills. If a physician gives you advice at a dinner party and following it causes further harm, you cannot sue him or her for malpractice because no professional relationship existed.
Breach of duty of care. The breach of care, or act of negligence, is the main component medical malpractice lawsuit. You will need clear and convincing evidence that the defendant breached, or failed to fulfill, a duty of care to you. Showing up to work drunk or misinterpreting test results are examples of breaches of medical duty.
Causation. There must be a causal relationship between the defendant's breach of duty and your personal injury. The doctor or hospital's breach of proper care must be the proximate (main) cause of your damages for you to have a case against the defendant. Otherwise, you may have a case against someone else.
Damages. Finally, victims must show they suffered real damages because of the defendant's breach of duty. Damages may include medical bills, physical pain, emotional distress, lost quality of life, or lost income.
If you are not sure whether you have grounds for an Illinois medical malpractice claim, contact us. We can review your case and give you our honest opinion on its merit in a court of law. We will review your case for free in Chicago today.
Our Medical Negligence Practice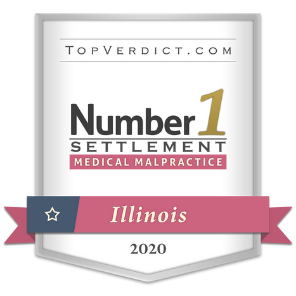 Clifford Law Offices in Chicago has handled numerous medical malpractice cases. In this era of healthcare change, Clifford Law Offices' commitment to consumer rights and awareness is unwavering. We handle all forms of medical malpractice claims, including those involving:
Defective medical devices (product liability)
Improper treatment
Failure to diagnose
Delayed diagnosis
Defective medication
Birth injuries
With an attorney-nurse as well as a full-time nurse with a legal background working on these negligence and malpractice cases, Clifford Law Offices offers in-depth medical insight to its clients and referring attorneys. We combine innovative legal theories with well-researched facts related to current medical and pharmaceutical practices.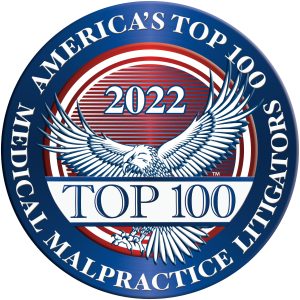 Robert A. Clifford and Keith A. Hebeisen, partners and medical negligence attorneys at the firm, have written extensively on this subject and were among those in the forefront of the fight on behalf of patients' rights to a trial by jury.
Our Multi-Million-Dollar Medical Malpractice Case Results
$101 Million: A record verdict on behalf of a baby who was brain damaged at birth at West Suburban Medical Center in Oak Park. (Attorneys: Keith A. Hebeisen, Bradley M. Cosgrove, Sarah F. King, and Charles R. Haskins)
$22.9 million: A child sustains permanent brain injury due to lack of oxygen to his organs during labor and delivery. A brain MRI demonstrated evidence of a severe profound perinatal hypoxic-ischemic brain injury. He was diagnosed with spastic cerebral palsy, has global disabilities including the inability to walk, motor and speech delays and cognitive impairment. (Attorneys: Keith A. Hebeisen, Robert A. Clifford, and Sarah F. King)
$15.55 million: A 33-year-old woman dies after a cesarean section due to massive bleeding caused by doctors' negligence in failing to diagnose and adequately treat placenta abnormality. (Attorneys: Sarah F. King and Keith Hebeisen)
$16 million: A newborn suffers brain damage when oxygen is cut off after doctors and hospital personnel fail to perform a timely C-section. (Attorneys: Bob Clifford and Keith Hebeisen)
$13.5 million: An infant suffers severe brain damage at birth as a result of an improperly mixed intravenous solution. (Attorneys: Bob Clifford and Keith Hebeisen)
$12 million settlement: Failure to diagnose cancer leads to metastatic cancer in a 55-year-old man. (Attorneys: Bob Clifford and Keith Hebeisen)
$12 million: A record medical malpractice verdict in DuPage County is won on behalf of an infant who suffered permanent and severe brain damage as a result of a delayed C-section delivery. (Attorney: Keith Hebeisen)
$8.5 million: A Williamson County man from Marion, Illinois died when a certified registered nurse anesthetist and hospital employees allowed a patient to become dangerously hypotensive and was later declared brain dead. (Attorneys: Bradley M. Cosgrove and Charles R. Haskins)
$7.4 million: A 38-year-old man paralyzed from the waist down following a neurosurgeon's decision to deviate from a spinal cyst drainage procedure without the patient's consent. Click here to read more about the case. (Attorneys: Keith A. Hebeisen and Sarah F. King)
$6.75 million: Doctors and hospital personnel negligently fail to timely recognize, diagnose, and treat a baby girl in the intermediate care nursery who developed jaundice that resulted in permanent brain injury. (Attorney: Keith Hebeisen)
$6 million: A young mother of two suffers severe disfigurement when doctors unnecessarily remove a healthy breast after a lab technician mixes up pathology slides. (Attorneys: Bob Clifford and Keith Hebeisen)
$5 million: A doctor performs an unnecessary hysterectomy on a 31-year-old Chicago area woman after a C-section to deliver her first child. (Attorneys: Keith Hebeisen)
$5 million: A 41-year-old Chicago area woman suffers unnecessary hysterectomy after a doctor performs a C-section to deliver her first child. (Attorney: Keith Hebeisen)
$4.5 million: A 52-year-old mother of three suffers permanent and severe brain damage after a hospital fails to monitor her breathing following hip replacement surgery. (Attorney: Bob Clifford)
$3.6 million: A 55-year-old woman dies when a doctor fails to properly and timely diagnose her breast cancer, leaving one adult daughter, disabled. (Attorney: Keith Hebeisen)
$3.2 million: The plaintiff suffered a spinal cord injury during surgery and is permanently disabled and partially paralyzed in all four extremities. (Attorney: Keith Hebeisen)
$3.2 million (partial): A 46-year-old man was paralyzed after surgery, leaving him incontinent, impotent, and severely spastic. (Attorney: Keith Hebeisen)
$2.5 million: A mother was in labor for 25 hours with prolonged periods during which her baby was deprived of sufficient oxygen and suffered from poor fetal tones; her son was born with cerebral palsy and died two years later from a seizure disorder. (Attorneys: Richard F. Burke Jr. and Shannon M. McNulty)
In the video above, attorney Susan Capra answers some of the most frequently asked questions related to medical malpractice. Ms. Capra is not only a partner at Clifford Law Offices but also a registered nurse who is well aware of the issues involved in medical malpractice claims. Questions she answers in the video include:
What is medical malpractice?
What are some common types of medical malpractice?
What should someone do if he or she believes they are a victim of medical malpractice?
What needs to happen for a medical malpractice lawsuit to be filed?
We have more videos on this topic. This series of short videos covers such issues as whether malpractice has occurred, what you need to prepare for a malpractice case, and how medical malpractice cases are settled. Want to learn more? Read our medical malpractice FAQs.
If you or a loved one have suffered a serious injury as a result of medical negligence, we can help.  Please, contact Clifford Law Offices today at (312) 899-9090 for a free and confidential case evaluation.