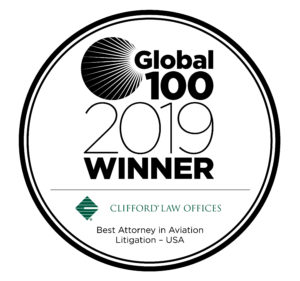 Clifford Law Offices is proud to be named the 2019 Law Firm of the Year in the United States in Aviation Law by Global 100.
"Global 100 consists of only 100 of the world's leading firms and individuals with votes received from global readers in over 163 countries worldwide," stated Richard Baker, the Editor in Chief of Global 100. He adds, "The purpose of the Global 100 is to provide the readership with a comprehensive understanding of those firms that are truly leaders within their chosen areas of specialization."
Our aviation team, headed by founder and senior partner, Robert A. Clifford, works hard on behalf of victims of plane crashes around the world.
Our work to achieve justice for our clients is more recently evidenced in Robert Clifford being named lead counsel in the consolidated litigation in Federal District Court in the Boeing 737 Max8 crash in Ethiopia.