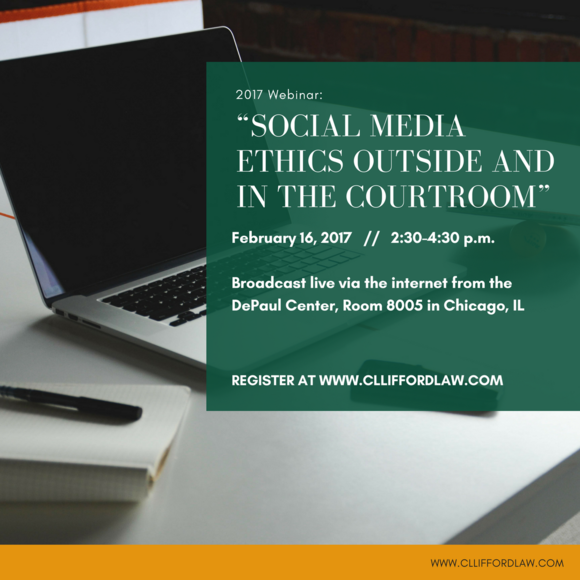 Clifford Law Offices, a nationally renowned personal injury firm and accredited Illinois continuing legal education provider, is holding its 10th annual MCLE program, "Social Media Ethics Outside and in the Courtroom," on Thursday, February 16th, 2017.
More than 3,000 Illinois lawyers have signed up for the free two-hour webinar that will be held at DePaul University. Registration to attend the online program is required by signing up at the firm's website, www.CliffordLaw.com.
Robert A. Clifford, founder and senior partner at the firm, will serve as moderator for the program that is held 2:30-4:30 p.m. and offers two hours of professional responsibility credit.
Panelists included the Hon. Lynn M. Egan of the Cook County Circuit Court; Mark C. Palmer, Professionalism Counsel of the Illinois Supreme Court Commission on Professionalism; and John M. Barkett, partner at Miami's Shook, Hardy & Bacon and a prolific writer and presenter on this topic.
The panel will be discussing the very timely issue of social media and how the courts are grappling with preservation of or access to information on social media sites as well as how lawyers should conduct themselves consistent with the Model Rules of Professional Conduct.
For further information, contact Clifford Law Offices Communications Partner Pamela Sakowicz Menaker at 847-721-0909 or Ashley Ocampo at 312-899-9090.