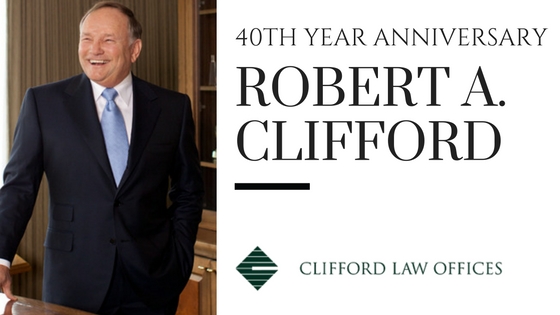 2016 marks Bob Clifford's 40th anniversary as a Chicago lawyer.
Throughout his career as a top personal injury lawyer, his settlements for clients have made major headlines, earning as much as a $1.2 billion settlement for one case alone. He has also earned recognition including being listed in Best Lawyers, the oldest and most respected peer-review publication in the legal profession, since 1993. He has been selected to Super Lawyers since 2005- being listed consecutively as a Top 10 Illinois Super Lawyer, and was named by Chicago Magazine as one of the 100 Most Powerful Chicagoans.
Throughout his 40-year career, Bob has dedicated his time to representing individuals, families, and companies in need. He also volunteers to support the legal community, working with the American Bar Association, Chicago Bar Association, Chicago Bar Foundation's (CBF) Investing in Justice campaign and DePaul University College of Law, to name a few. You can read more about Bob and Clifford Law Offices' community involvement here. Bob is also very dedicated in giving back to the Chicago community. Bob and his wife, Joan Clifford, recently received a Star of recognition on the Goodman Theatre Walk as a thank you for their generous and untiring philanthropic work in the arts!
In regards to his anniversary, he shares, "I am so honored that I have been able to serve my clients, uphold the law and give back to the community. I look back on my career with pride and look forward to many more decades of service."
To read the press release Robert A. Clifford Celebrates 40 years as a Chicago Lawyer press release click here.