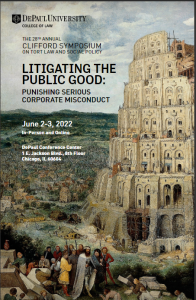 "Litigating the Public Good: Punishing Serious Corporate Misconduct" is the topic of the 2022 28th Annual Clifford Symposium on Tort Law and Social Policy at DePaul University College of Law that will be held as a hybrid program on June 2-3.
Academics from around the country will gather for a two-day program to discuss the need for private litigation to confront corporate harms that cost human lives.
DePaul Law School Professor Stephan Landsman, organizer, and director of the symposium, will lead the discussion among more than two dozen law school faculty, experts, and national policy scholars including Zachary Clopton, Northwestern University School of Law; Gregory Mark, DePaul University College of Law; and the U.S. Federal District Court Judge Jed Rakoff of the Southern District of New York.
Robert A. Clifford, founder, and senior partner of Clifford Law Offices endowed the tort law and social policy chair at DePaul in 1994. DePaul Law School Dean Jennifer Rosato Perea will offer introductory remarks to the two-day program.
Each speaker writes a thought-intensive article that appears in a special edition of the DePaul University School of Law Review. The Clifford Symposium is free and open to the public and offers up to nine hours of continuing legal education credit. The deadline for the required registration is June 2.
Session I: Bankruptcy
The Administrative State in Bankruptcy – Jared Ellias, University of California Hastings; George Triantis, Stanford University
Fake and Real People in Bankruptcy – Melissa Jacoby, University of North Carolina
Cheap Grace in Bankruptcy Court – Troy McKenzie, New York University
The Committee Charade in Mass Tort Bankruptcy – Lindsey Simon, University of Georgia
Session II: Corporate Responsibility
The Great American Double Standard – Honorable Jed Rakoff, United States District Court, Southern District of New York
The Challenge of Holding Corporations Accountable Through Civil Litigation – Howard Erichson, Fordham University
"A Force Created": The U.S. Chamber of Commerce and the Politics of Lawsuit Immunity – Myriam Gilles, Yeshiva University
Shareholder Wealth Maximization and Securities Fraud – James Park, University of California Los Angeles
Session III: Tort Law To The Rescue?
The Texas Two Step in Bankruptcy: Corporate Abuse in the World of Mass Torts and What Can Be Done About It – Maria Glover, Georgetown University
Tort Claims for the Coverup of Childhood Sexual Abuse: Private Litigation, Corporate Accountability and Institutional Reform – Timothy Lytton, Georgia State University
When a Corporation's Rational Ignorance Causes Harm: Charting a New Role for Tort Law – Wendy Wagner, University of Texas
To register for one or both dates, click here or call 312-362-8372. 
Other topics have included "Patient Safety: How Might the Law Help?", "The Impact of Dark Money on Judicial Elections and Judicial Behavior" and "Civil Litigation in a Post-COVID World."
---
All in-person attendees must comply with DePaul University's COVID-19 policy, which requires attendees to be fully vaccinated against COVID-19 or have proof of a negative COVID-19 test dated no earlier than 72 hours prior to the program. Documentation will be reviewed at check-in for the event for all guests except DePaul faculty, staff and students.
Masks are encouraged but not required. These rules are subject to change in accordance with public health guidance.