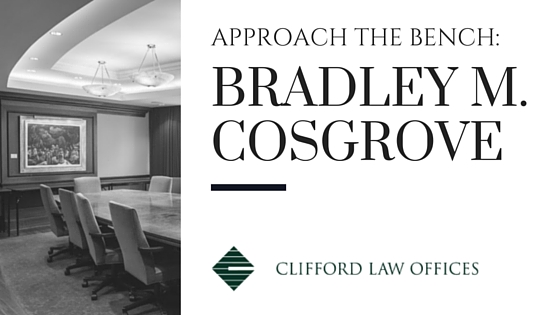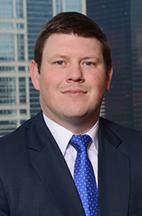 Brad Cosgrove, partner at Clifford Law Offices, decided to help victims of personal injury through a very tragic personal story that hit his home when he was just 10 years old.
In 1991, his father, a Chicago firefighter, was driving the family van with Brad's mother when a semitrailer truck jackknifed on the Stevenson Expressway and crushed the vehicle into the median. His father was ejected through the front windshield, cutting off a portion of his left ear and breaking his back in three places. By just a millimeter, his dad was miraculously saved from permanent paralysis. He was hospitalized for several weeks and ultimately underwent a radical state of the art 20 hour surgery where several titanium rods were implanted into his spine. His mother was severely injured as well with a closed head injury. The effects of the head injury were so severe that it took a significant period of time before she could recognize her family members. Adding insult to injury, the trucking company that caused the crash failed to take responsibility for the careless actions of its driver.
As a young child, Brad watched his parents navigate through the legal system fighting the large trucking company. His earliest memory of a courtroom dates back to his mother and father's jury trial in federal court in Chicago. After a jury returned a verdict for Brad's family, he decided that he wanted to be a lawyer to help families who were innocent victims of careless actions of others. Brad, the youngest of six children, said that "I know firsthand how lawyers fight for those who were at the worst point in their lives," with a strength that only can be built from a child who has seen it all. "I've been in their shoes. I know that injured people and their families have enough on their plate with the continued focus on getting healthier and striving to return their lives back to normal as best they can."
Brad's family has a long tradition in the Chicago Fire Department that includes his grandfather, two of his uncles, his father and older brother. Brad gives back to those who dedicate their lives through his help in the Wounded Warrior project that helps to raise funds for the families of those injured or fallen in the line of duty. "It is a very honorable profession – putting your life on the line for others every day not knowing the dangers you will face on a daily basis," Brad said. "My dad instilled in me the need to help others." At the young age of 34, Brad already boasts a trial record of someone much older than his years. He loves being on trial. His success began within a few months after being licensed as a lawyer where he is believed to be the youngest lawyer in Illinois history to have secured a seven figure verdict at the age of 26. He obtained his first million dollar medical malpractice verdict at the age of 27. At the age of 33, Brad obtained his first eight figure verdict while at Clifford Law Offices where he procured a $14 million verdict for a Polish woman who suffered a severe disabling stroke after taking Yasmin for 13 days. In his first year alone at Clifford Law Offices, he has obtained nearly $30 million in verdicts and settlements for his clients.
Ask him his most memorable trial, and he says they all have special meaning in their own way – no matter how big or small. In the upcoming year, he has seven trials scheduled, most of them involving a range of complex medical malpractice issues – from a man who suffered permanent paralysis because of delay in giving a stroke victim proper medication, to a tragic death from an undetected cancerous lesion in a patient's bones, to a patient who died when medical personnel failed to recognize that a patient developed a postoperative complication. Brad views all of these cases as a challenge and he strives to prove that his clients deserve justice in court with topnotch professionalism and experts.
"Everyone deserves their day in court. It can take years, but I enjoy working with my clients and helping them through the difficult process," Brad said. "It is always very rewarding when the result is positive for them. Although it can't put their lives entirely back together, as I learned from my own family's tragedy, the civil justice system works." Brad grew up in Chicago in the Mt. Greenwood area. He went on to Grand Valley State University in Grand Rapids, Michigan, where he met his wife, Becca, and they now have two children, a daughter, Hannah, age 4, destined to be a lawyer, he said, and a son, Jack, 11 months old.
To read Bradley's attorney profile, click here.