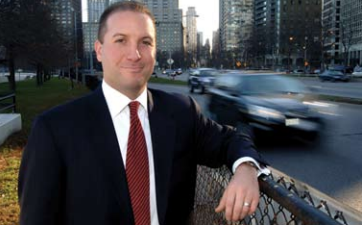 Ask Craig Squillace his most memorable case and he tells the story of a young woman who was physically challenged early in life due to a brain aneurysm. Dependent on public transportation, she was on a bus heading to her government job. On the way, the bus lost control and hit an embankment in suburban Mount Prospect.
The 46-year-old woman was thrown from her seat and suffered severe bruising, contusions and fractured ribs which became significantly infected. Craig tried the case before a jury with partner Robert Walsh.
"And through it all, Monica was still optimistic about life. She would always say that things could be worse. She said she never had brothers, and it was nice having two 'big brothers' looking after her and standing up for her when she needed it," Craig recalls.
That is how one views Craig Squillace. He's everyone's big brother, watching over them with a patience and a love that is like a close family member.
Craig in real life is brother to one sister, Lynn, and, coincidentally, both of them were married this year, a real bonding for the Squillace family. "It was stressful but at the same time very enjoyable. Both of us had relatively large weddings and it is always nice to see people you haven't seen in awhile," Craig said. "And it's nice to see my sister happy." Ever the big brother.
Craig was married in September. He met his bride, Sarah, at Clifford Law Offices where she works as a legal assistant to one of the partners at the firm. "Our schedules are so different it doesn't seem like we work together, yet at the same time it's nice because we do catch a glimpse every day and we try to commute to work together. It's also nice because we have so many friends in common."
His sister was married in June and honeymooned in the Caribbean. Craig and Sarah honeymooned for nine days, taking a memorable Caribbean cruise and then four days in New York which became like two separate vacations, he said.
Craig's parents, down-to-earth, hard-working people, managed to put both of their children through school. With his love of politics since a child, Craig always knew he would do something related to government. "I grew up loving the sixties and the optimism of the Kennedy Administration." He looks forward to living an idyllic "Norman Rockwell" life, joking of having the Victorian house in the suburbs with two-and-a-half children and a dog, similar to the one he had when he was growing up.
"Roxie" was a husky/ shepherd mix who loved the outdoors. "It was never too cold for Roxie," he recalled. "She was so protective of the family. Every morning at 2 a.m., it was her routine to go into everyone's bedroom, one by one, and check on all of us. Then she would go back to sleep."
Without even realizing it, Craig has developed that same sense of protection for his family as well as his clients. He started at Clifford Law Offices as a "runner," delivering important packages and documents, filing court papers, helping with the day-to-day routines in the office. He was accepted to John Marshall Law School which he attended in the evenings while working full-time as a law clerk during the day.
"From the moment I have been here, I knew I wanted to do personal injury work. It is very rewarding," Craig said as he sat, as always in his office with a crisply ironed white shirt and perfectly tailored suit. "The work is fast-paced and the feeling of fulfillment in helping those in need can't be duplicated."
He is working on a variety of cases – from the wrongful deaths of those killed because of a lack of barriers on the highways to those hurt on unsafe premises to construction accidents as well as many auto accident cases. His day is made up of court appearances, depositions and talking to clients. He also sits on the Chicago Bar Association's Judicial Evaluation Committee which recommends judges for retention or election to the voting public.
One of the most heart-wrenching cases on which he is now working is that of a teenager from Downers Grove who was seated in the back of a car when a bus struck him. The boy suffered a traumatic brain injury and requires round-the-clock care which is now provided by his mother. "It is very difficult to see someone who was living a full life and had such a future now being forced to rely on his mom for everything, especially for someone who was merely an innocent passenger." He talks of the teen like he is his brother, like so many of his other clients as well.
"That's what Clifford Law Offices is all about. We're all like a family here. Everyone here tries to help others. It's that sense of closeness that keeps all of us going and able to help those at the worst of times in their lives."
Everyone should be so lucky to have a brother like Craig Squillace.
To view Craig's attorney profile, click here.