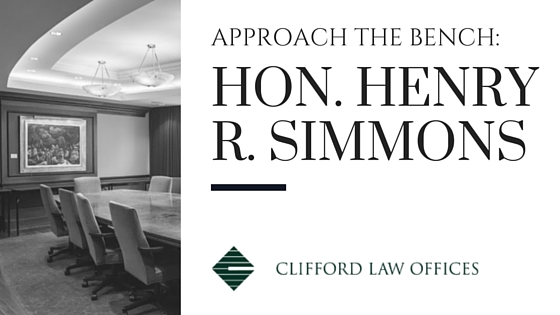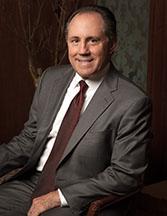 Retired Judge Henry R. Simmons who is the son of former Chicago Public School teachers grew up on the South side of Chicago. His family's strong work ethic provided him with a solid example to build upon throughout his career. He now takes on the position as managing partner at Clifford Law Offices, which is the bulk of all activity at the firm. The intake of every case originates through Judge Simmons. His goal will be to personally review each case in a truthful and empathetic manner.
"My perspective from the bench allowed me to gain insight into trial decisions and strategies. As a judge it was my job to ensure that the parties received a fair forum in a respectful setting. I see the opportunity at Clifford Law Offices as a way to continue my desire to help individuals in seeking justice in serious claims, and I decided to make a commitment to one of the top firms in the country. I feel strongly for the need to address each case in a professional and thorough manner. We seek out the best experts. We examine every possible viable theory in filing lawsuits on behalf of our clients."
He attended Mount Carmel High School and Purdue University, (the same college his father attended), where he earned a degree in economics. According to Judge Simmons, "Having played Varsity Baseball at Mount Carmel I attempted to make the final cut as a walk-on at Purdue, but the practices conflicted with my classroom responsibilities and I realized that my academic goals were more important. I chose Club Rugby and Intramural Softball instead. Following graduation, I received my law degree at DePaul University. He then worked as a Cook County Assistant State's Attorney for 12 years. For 19 years Judge Simmons served on the bench in the Criminal Division and the Law Division of the Cook County Circuit Court. Judge Simmons spent three years as a mediator and arbitrator for a highly respected mediation firm before joining Clifford Law.
Later he did follow his interest in baseball, by coaching women's fast pitch softball. It was through this activity that he met his wife Beth, who went on to become a professional fast pitch softball pitcher. Beth received her Masters degree in business from Northern Illinois University and is currently employed as a construction project manager in the Chicago area.
Together, they love to travel and play golf, juggling their busy schedules, which involves church, family and friends. One of Judge Simmons' real passions is his pro bono work for the Lawyers Assistance Program (LAP). There he is involved in intervention teams, assisting lawyers and judges who face alcohol addiction, drug abuse and other problems that seriously impact their professional careers and personal lives. In fact, his work in this area earned him the Judge of the Year Award by LAP for his countless hours and selflessness in helping other, sometimes even on a moment's notice. "I receive tremendous satisfaction knowing that I can make a difference, not only in that person's life, but for their entire family as well," Judge Simmons said of his six years of volunteering. He also proudly accepted his recent appointment to the Northern Illinois University College of Law School Board of Visitors.
And that is really how he feels about his work at Clifford Law helping to assist those who are struck by tragedy, due to the negligence of others. Whether it be a victim of medical malpractice, a trucking accident, a plane crash, premises liability or a faulty product, Judge Simmons takes the time to talk to each potential client who contacts Clifford Law Offices and walks them through a personal or wrongful death action. People love his patience in explaining whether their cause of action is a viable one and what to expect in what can take up to five years to resolve. In the meantime, he encourages the families to try to get better, to focus on putting their lives back together as best they can, while the lawyers at the firm take on the legal issues seeking justice for the clients.
"Clifford Law Offices is very fortunate to have someone of the caliber and universal respect that Judge Simmons has," said Robert Clifford, founder and senior partner at the firm. "His presence already has made an impact at the firm and to so many families he already has touched. He is a perfect fit in our firm and we expect this firm to continue to grow and thrive under his tutelage."
To view his attorney profile, click here.