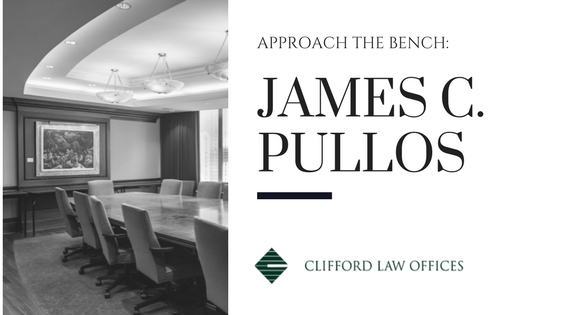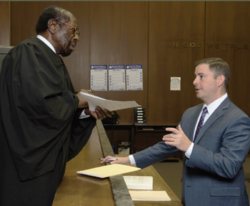 It's a story heard over and over – a family of eight grows up on Chicago's South Side in the Beverly neighborhood. His father works round-the-clock in the restaurant business while his mother does the "heavy lifting" of raising six children, working shifts at the restaurant, and pursuing her own nursing career.
The children attend parochial high schools but the first five children do not seriously pursue higher education. (All three of the older boys went into the trade unions.) That's until the youngest – the one who listens to and learns from his older brothers and sisters – seizes upon education and the opportunities that it could offer. Despite the toll of raising six children, his parents proudly put him through Marquette University. The industrious son then puts himself through DePaul University College of Law and later even obtains an MBA from the University of Chicago's Booth School of Business.
That's the story of James Pullos who recently joined Clifford Law Offices as a partner after working at the Cook County State's Attorney's Office for 14 years. He rose quickly through the ranks and became supervisor of complex, busy litigation practice groups in the Civil Actions Bureau including the Torts and Civil Rights Division. He then went on to work at an insurance company, but deep down inside he always knew he wanted to work at a plaintiffs' law firm helping those in their greatest time of need.
"I knew I wanted to be a lawyer since I was eight-years-old," Jim says, his youthful face belying his years of experience. "And Clifford Law Offices was always my top choice because of its respect in the legal community and the entire Chicago area for what Bob Clifford and the lawyers here have accomplished and how they treat their clients."
Once in law school, Jim began taking trial advocacy classes to prepare for a career in court. "The idea of earning an education and becoming a lawyer was empowering because it allows you to help people who don't know how to help themselves. I thought that trying cases would help people and that trial work offered me the most direct way of achieving justice for my clients. As an Assistant State's Attorney, it was particularly satisfying to stand up in court and speak for those who were unable to speak for themselves. As lawyers, we are in a particularly trusted position to represent people in court who need reliable advocates. Now I feel that I am doing the same thing for those who seek justice in a civil arena here at Clifford Law," Jim said.
"I value careers that help make a difference in people's lives. I am certain that Clifford Law is the culmination of my own personal career goals of being in the place where I can have the greatest impact on helping others. I would like my family to view me as a person who lives by a defined set of values in order to make a meaningful contribution to our community. Of course, I want to set a good example for my family." Jim's three children, aged four to eight, attend parochial schools. Jim's values have already hit close to home – his eight-year-old son has said that he hopes to one day be a police officer.
Like his parents, Jim and his wife Maria are raising their three children on Chicago's Southwest side. "I love Chicago. I'll be a Chicagoan always," Jim said of his raising his two sons and daughter in the city. "I love living in a city that offers such diversity, culture and philosophies for our children to be a part of."
Jim's wife of 10 years is a special education teacher in Chicago's public school system, instructing teachers and school staff on how to create individualized education programs for students who need and want to be mainstreamed. She also works directly with parents to try to help their child obtain special accommodations at various schools across the city.
Jim is knee-deep in casework at Clifford Law Offices, working on cases involving those who have been unknowingly harmed by asbestos. He also is representing clients involving premises liability, auto accidents and medical negligence.
Jim has represented hundreds of clients as an Assistant State's Attorney, including murder cases, rape cases, and other high-profile and high-value civil cases, but one that stands out in his mind is that of a young man, 19, who was bludgeoned with a brick to his head and fell lifeless onto the concrete. It turns out that the person charged with this crime was in his mid-20's and had numerous previous arrests when the case landed on Jim's desk.
Jim recalls that the 19-year-old victim was a step from death. "It was the excellent medical care and the patient's great health that saved his life, but not without permanent consequences," Jim said. "He suffered traumatic brain damage and had to drop out of college, but at least he's alive. His father came to me and I could see in his eyes that all he wanted was justice, some sort of closure for his son who was hit in the head by a brick just for being in the wrong place at the wrong time. Along with my partner, we proved the aggravated battery charge and the defendant got the maximum prison sentence. I remember the look in the dad's eyes afterward and I felt incredibly satisfied for helping him and his family after this traumatic event."
"As lawyers handling some very heavy issues, we do our job with such passion because it's the right thing to do," Jim says.