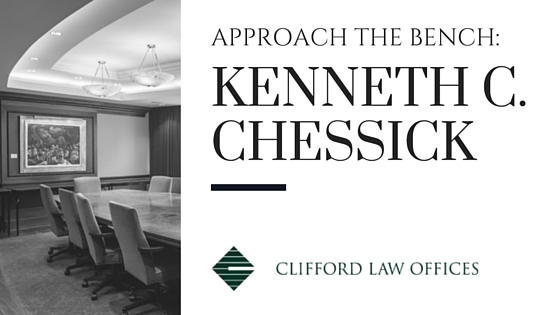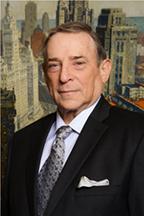 Dr. Kenneth C. Chessick recently joined Clifford Law Offices as Of Counsel to the firm. His experience and education add breadth and depth to the medical malpractice team at the firm. For nearly three decades, Dr. Chessick had been the principal partner at The Law Office of Kenneth C. Chessick, M.D. He has accomplished much in that time, obtaining record setting verdicts and settlements for victims of medical malpractice – from birth injury cases to failure to diagnose cancer cases. Patients and their families turned to Dr. Chessick over the years knowing he would know the right thing to do.
Perhaps his most memorable case is Happel v. Walmart, a case Dr. Chessick argued and won unanimously in the Illinois Supreme Court, which established as law that a pharmacy has a legal duty to warn consumers or their physicians when the pharmacy knows the medications will likely harm the consumer, as when they are allergic to the medication. Dr. Chessick believes that, because of establishing this legal duty, thousands of injuries have been prevented in Illinois and other states. Happel v. Walmart is an example of how representing victims of negligence makes the world a safer place.
Dr. Chessick continues to work round the clock and views his move to Clifford Law Offices as a wonderful opportunity in his career to concentrate on medical malpractice work without tending to the administrative details required in running a firm. "I have watched Bob Clifford and his firm grow and respect his passionate, ethical approach to the law and to his clients," Dr. Chessick said. "I approached him with the idea of working with him and am appreciative he, too, saw the benefits to everyone, especially our clients, in working together."
Dr. Chessick also gives back to the community in so many ways. One of his legacies is the Kenneth and Ellen Chessick Practice Facility at his alma mater, Northern Illinois University. With a generous multi-million dollar gift to the school, Dr. Chessick and his wife's donation allowed for the building of a state of the art practice facility for athletes at the university that opened this fall for the team's homecoming game. The NIU Huskies, ranked 23rd in the nation, closed out a record setting 2013 campaign (121) and are heading to the San Diego County Credit Union Poinsettia Bowl over the holidays. The Chessicks' strong belief in the value of a successful athletic program is only surpassed by their firm commitment to a strong academic program, something that goes hand in hand in bettering the entire college experience. "We are dedicated to helping to provide the best possible college education experience for our NIU students, and our student athletes are instrumental to that positive experience," Dr. Chessick said.
A 1984 graduate of the NIU College of Law, Dr. Chessick also established the Kenneth C. Chessick Legal Training Skills Center in 2004. Three years later he created a series of annual endowed scholarships named in honor of his clients in the Kenneth C. Chessick Civil Justice Endowed Scholarship Program. In 2001, he was named NIU Distinguished Alumnus of the Year, and in 2012 he was named the NIU College of Law Alumnus of the Year. He serves on the Board of Directors of the NIU Foundation, and in 2013 he was selected to give the figurative "Last Lecture," a speech delivered to the public annually. Dr. Chessick's topic is "How an Ordinary Guy Can Do Extraordinary Things."
Speaking even for a moment with Dr. Chessick, his caring for others immediately comes across. He thinks like a lawyer but has the bedside manner of a gentle doctor. He is quick to smile but understands the seriousness of his work and is committed 100 percent all the time. Clifford Law Offices welcomes him to its fold.
To view Dr. Chessick's attorney profile, click here.