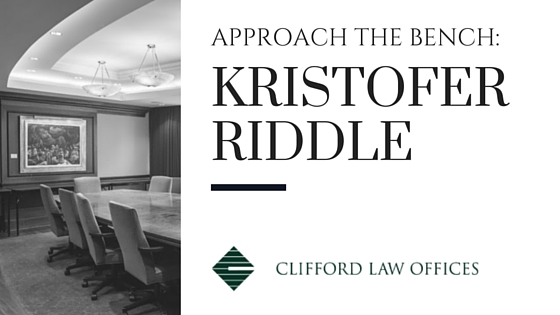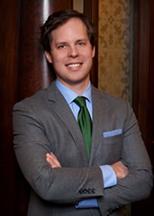 Clifford Law associate attorney, Kristofer Riddle has two sides of his personality that combine to work in service of his clients. He is a well-liked, thoughtful attorney with knowledge well beyond his years. His role has him involved in handling some of the most complex litigation at the firm. He does so with a steady, even demeanor, one that his clients and his colleagues appreciate and respect. But don't be fooled by his affable outside.
Inside, he is a life-long hockey player who takes out his aggression on the ice every week and in the courtroom every day. "I like the team aspect of playing hockey," Kris said. "There's a camaraderie on the team that I also see at the office. Working together towards a common goal is a dimension of the sport that I see at work." Kris credits his colleagues for showing him what excellence in the law looks like. "Bob Clifford, Kevin Durkin, Keith Hebeisen…I work for a literal legal all-star team; I get to learn from these men," Kris said.
Kris was on the job at the firm just one month and obtained a $100,000 partial settlement in an auto accident case for a woman who was t-boned when a driver ran a stop sign. He has handled class action matters at the firm – from Pella window cases to data breach matters affecting thousands, if not millions of potential consumers.
He says he was motivated to become a lawyer to continue a commitment to the public that he saw in his family. As the son of a fireman and a homemaker, and whose uncle and grandfather also were firemen, Kris' family provided a daily demonstration of compassion and dedication to public service. "I just knew I wanted to help people and my interest in the law led me to DePaul Law School." He juggled work as a clerk for several years at the firm while attending law school, learning the culture and the complexities of tort work. By the time he graduated and passed the bar exam, he was well prepared to take on any assignment given him.
"Kris is one of the brightest young attorneys I know," said Robert A. Clifford, founder and senior partner at the firm. "I can rely on Kris to do any assignment that is given him and he comes through each and every time with a reasoned analysis. He is hard working, dependable and thoughtful in his approach to everything he does. He is a tremendous addition to the firm."
Kris grew up in south suburban Harvey with an older brother. He attended Mt. Carmel High School then went on to receive a Bachelor of Arts in political science from The City College of New York City, CUNY, where he received several awards including being named to a Marvin Rosenberg Fellowship in Public Policy and to the McNair Scholars program. Prior to law school, Kris was employed by Duke University's Graduate School and Terry Sanford Institute of Public Policy in North Carolina. It is there that he met Elizabeth, his wife of four years.
He now resides with his wife, who also is a lawyer, in Chicago's Bridgeport neighborhood. Cormac, their son, is now 18 months old. "I hope to pass down to my child the same commitment to public service that was shown to me," Kris said. "I would like him to find satisfaction through his work by somehow assisting those in need."
When asked about his own future, Kris says, "I see myself at Clifford Law Offices in the years to come. The work here is very challenging and very satisfying. The interaction with my colleagues provides for the most dynamic learning environment I have encountered. I hope to continue helping people through some of their darkest times. It makes me proud to be a lawyer, and I know my family is proud of me as well."
To see Kristofer Riddle's attorney profile, click here.