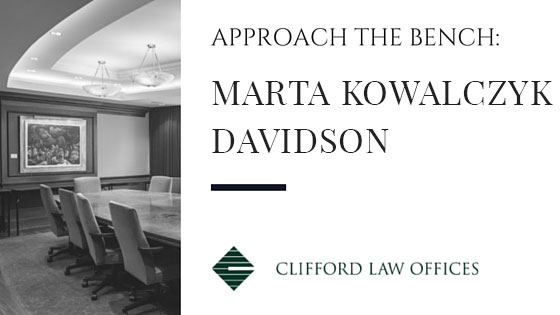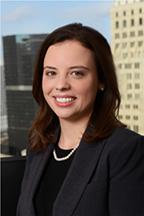 The daughter of two physicians in Poland, Marta (Kowalczyk) Davidson immigrated to the United States when she was just three-years-old. Her father continued working as a board certified family practice physician in the U.S. and her mother worked in the health care field.
The Kowalczyks eventually settled in Park Ridge, a northwest suburb of Chicago. Marta attended Maine South High School. It was there that Marta's love of the law crystallized. She was selected to compete in the We the People: the Citizen and the Constitution competition and her team won first in state. They traveled to Washington, D.C., when she was a high school senior, and the team was among the finalists in the country. "It was all very exciting to be a part of such a prestigious group and to be recognized for our hard work," Marta said.
Although Polish is her native language, Marta quickly acclimated to life in America. She grew to love its history as well as political science and ultimately the law, deviating from the health care paths of her family just a bit because now she focuses her legal work on medical malpractice cases. "I never had the stomach for blood," she says, so she headed to University of Illinois Law School in Champaign-Urbana. "I knew I wanted to help people and I felt I could do that through the law," she explained. "It's where the law and medicine meet that I felt I could best help those who are suffering at probably the most challenging time of their lives."
Marta was hired by Dr. Kenneth Chessick, a highly successful doctor and lawyer who had a thriving med mal practice in the suburbs of Chicago. Marta found herself working up cases and in a courtroom right from the start. "When I first hired Marta so many years ago, she was an eager rookie. Today, Marta has blossomed into a high quality, hard working, tireless attorney, who is passionate in her efforts to achieve justice for our clients," said Dr. Chessick. "She has made me proud."
When Dr. Chessick combined his legal practice with that at Clifford Law Offices, Marta began working on LaSalle Street. As part of the medical malpractice trial team, Marta has achieved several multi-million dollar verdicts and settlements. For example, she was part of the trial team that obtained a record $3.157 million verdict in Winnebago County for the amputation of a 65-year-old man's left leg due to a doctor's negligence. Most recently, Marta was part of the trial team that obtained an $8.25 million verdict in Cook County on behalf of the family of a 68-year-old man who died two days after a knee replacement surgery. Marta has also taken part in settlement negotiations resulting in multi-million dollar settlements, including a $2.75 million partial settlement in DeKalb County on behalf of the family of a 45-year-old man who died from medical malpractice and a $2.55 million settlement, on behalf of a 54-year-old man who suffered severe and permanent injuries from negligent emergency room care. She currently handles a wide variety of medical malpractice matters on surgical, cancer, cardiovascular, cardiology, orthopedic, obstetric and anesthesia cases in Cook County and the Collar counties. She also handles other types of personal injury matters, including a case involving the drowning death of a six-year-old boy at a park district pool during day camp.
Marta attended the University of Illinois in Champaign-Urbana, majoring in political science and Spanish and it is where she met her husband, Philip. They were married last year with many of her relatives from Poland traveling to Park Ridge for the wedding. "It was very beautiful and, of course, memorable with so many of my family members able to share that day with us," Marta said. Her husband also is a lawyer and as newlyweds with intense jobs, much of their time since their August wedding has been devoted to their work and making a home in the southwest suburbs of Chicago.
Speaking fluent Polish, she has a large number of Polish clients given the large Polish population in Chicago. "Although language has never been a barrier for me, I empathize with people who have legal problems whose native language may not be English. I feel that I can better explain to them what may happen and what they can expect in seeking justice through the legal process. It is very heartwarming and satisfying as a career," she said.
Marta also considers herself fortunate to have some great teachers in her life. "I'm lucky to have a great number of mentors in my life – from Bob Clifford and Dr. Ken Chessick to Keith [Hebeisen], Brad [Cosgrove] and Susan [Capra] at the office," Marta says of the law partners at Clifford Law Offices on the medical malpractice team who have helped her since she arrived. "I see myself working here a long, long time."
To see Marta's attorney profile, click here.