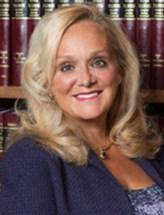 Pamela Sakowicz Menaker is an accomplished journalist, attorney and educator but ask her of what she is most proud and she will say her three children.
As a single mother, Pam has taken great pride in juggling her career with motherhood. Her three adult children are well on their way to success: Michelle is Showbiz Shelly in the morning on B96 radio in Chicago (WBBM, 96.3 FM) for the past seven years, Elise is launching her career as a sports journalist having just completed her master's degree at Northwestern University's Medill School of Journalism, and her son Mark works for the White Sox while earning his master's degree in Sports Administration at Northwestern.
Pam is herself a "double" graduate of Northwestern's Medill School of Journalism (bachelor's and master's degrees), priding herself on earning both of them in less than four years. "I believe education is very important. My mother taught me that."
Her mom, Dee Sakowicz, turns 90 this month. "I'm very fortunate to have her in my life. She's my best friend."
She graduated from Medill and immediately started work as a reporter for the Chicago Tribune. After two years, she decided to move to television and began work at ABCTV in Chicago where she worked for six years as a writer/producer.
When she spotted the small type in ABC's benefits booklet that offered to pay all education, she realized her dream of becoming a lawyer was a reality. With no strings attached, she had a full scholarship, including books, to night law school at Loyola University School of Law while working full time at the pressure-cooker job at ABC. Taking the bar exam six months pregnant with her first child, she was sworn in by Justice Seymour Simon in his chambers because of the November birth of Michelle.
Her first job was with legal legend Bill Harte. Toiling over trial records and writing briefs, Pam thought she had the perfect job that combined her writing and legal skills. But that was the days before computerized research. "I remember writing a brief with such a tight deadline that I was running up and down the aisles of the law library, conducting the research and composing arguments from the books off the shelves on a legal pad."
After working as a freelance appellate lawyer for several years, including arguing before the Seventh Circuit Court of Appeals, she decided to call a lawyer who had taught her Advanced Trial Advocacy as an adjunct professor at Loyola, Robert Clifford.
He initially hired her to write a complex brief on the choice of venue for the crash of the United Airlines Flight 232 in Sioux City, Iowa in 1989. She also worked on a complex case involving a helicopter crash on the East Coast that killed an entrepreneur and his wife. Her journalism skills, though, have put her in the unique position of being able to handle calls from the press because of Bob Clifford's high profile practice.
From the case of the Southwest jet that skidded off the runway killing a small boy in the back seat of the family car to little Diamond Brownridge who was killed by negligently administered anesthesia by her dentist, from the scaffolding collapse off the John Hancock Center that killed two young women in their car to the fatal fire in the Cook County Administration Building, Pam has comfortably handled the reporters, knowing many of them personally from her days as a journalist.
The case that garnered the most attention was the trial of internationally acclaimed violinist Rachel Barton. During the month long trial, she accompanied Rachel to court every day. When partners Bob Clifford and Kevin Durkin obtained the $35 million verdict that would help to assure Rachel would receive the lifelong medical care she required, Pam also was there, as she has been for many of the firm's clients during their times of need.
In cases where the media gets involved, people just don't know what to do. Certainly the press has a First Amendment right to report on a tragedy that has occurred, but people value their privacy more than ever during a time of suffering, "I help achieve a balance of the public's right to know with the family's need for privacy."
There also is something to be said about the importance of getting the word out to others when tragedy may strike again. Whether it be aviation safety, the safety involving the products people use every day or medical personnel that have been negligent, people have to know when something is unsafe so they can take precautions in the future," Pam said.
Pam also communicates much of this information through the law firm's websites, which she writes and directs. She has found it challenging to be on top of this ever-changing aspect of the law that requires constant work.
She still finds ways to give back to the profession and the community. She serves on the Assembly of the Illinois State Bar Association (ISBA) as well as on the Editorial Board of the ISBA Journal, its monthly publication. She is on the Judicial Evaluation Committee of the Chicago Bar Association (CBA) as well as serves on the Editorial Board of the CBA Record that is disseminated to its nearly 25,000 members. She also was appointed to serve a three-year term on the American Bar Association Standing Committee on Strategic Communications as well as its Task Force on Human Trafficking. And she sits on the Editorial Board of the ABA Litigation Magazine that goes out to more than 60,000 members.
She also was recently appointed to serve on the Board of Governors of the Catholic Lawyers of Chicago and somehow also finds time to serve on the Board of the Advocates Society. She has taught Consumer Law and Ethics of Marketing at her alma mater, Northwestern.
"I like to be involved only if I can truly contribute," Pam said of her many commitments, often utilizing her writing skills and legal knowledge. "I like to multitask and that allows me to get a lot more done. The computer age has allowed me to exponentially increase my output."
When does she relax? "My idea of a vacation is to take my reading work with me and sit for a week or two in a warm place. My children and I go out to eat, ride bikes and catch a movie. Those are the best times I remember and hope to have many more of these memories to come."
To see Pamela's attorney profile, click here.