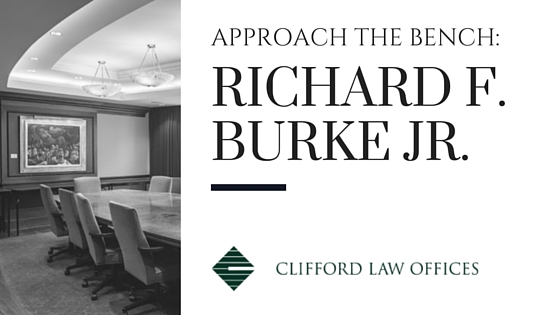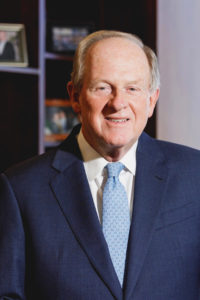 Every office should have a Richard Burke. A tireless work horse, Rich is one of those quiet, behind-the-scenes leaders who knows how to get things done.
He just wrapped up a case involving the rollover of a sport utility vehicle where, with Robert Clifford, he received a $22 million settlement against Ford Motor Company, a Ford dealership and a tire retailer and manufacturer. A 15-year-old girl was severely injured, and two teenage girls were killed, when the SUV rolled over on a Chicago expressway.
Rich is involved in a number of rollover cases and has become a "turn to" type of guy in these tragic accidents, having taken dozens of depositions and reviewed thousands of pages of records involving the design and safety of SUVs.
"These cases are particularly tragic because they generally involve unsuspecting drivers and occur during very common and foreseeable driving conditions. So many involve children in the back who are injured for life or die when the vehicle rolls over and often times ejects them," Rich said somberly. "I would like to think that our fighting the SUV manufacturers and tire companies is helping to make these highly popular family vehicles safer."
Rich spends a substantial amount of time on product liability and vehicular safety cases and has seen some substantial results. He has obtained a $3.45 million settlement on behalf of a girl who was rendered a quadriplegic when she was struck by a police car. He recently received an $11 million settlement in the death of an executive who was killed in a small corporate jet crash. One of his most memorable trials, though, involved the death of six-year-old Hiroaki Ishiguro. He came to the United States with his parents who were set to return to their homeland, Japan, in just two weeks when he was struck and killed by a garbage truck. Hiroaki was on his bicycle and the truck driver did not see him because his vehicle was without proper side and back mirrors to spot children nearby.
"That was a particularly heart-wrenching case because it was so easily avoidable had the garbage truck company taken some easy and inexpensive safety precautions," Rich said. He received a $6 million jury verdict for the family who had already moved back to Japan after Hiroaki's father completed a fellowship in orthopedic surgery.
Rich's successful career started 12 years before he joined Clifford Law Offices. He learned his craft as an Assistant State's Attorney in Cook County where he rose up the ranks among his peers to supervisor of felony trials. At that point, Rich decided to use those litigation skills in the civil arena. After prosecuting cases on behalf of crime victims injured during shootings, rapes and armed robberies, Rich considered it a natural transition to represent persons injured by negligent misconduct. He was named a partner last year at Clifford Law Offices.
The law must pulse through the Burke family's veins. Rich's three sisters are attorneys as well. He grew up on Chicago's far South Side in the Beverly neighborhood. He recalls his fondest childhood memories of playing baseball games every day with the kids on the block. "Any intersection became a baseball diamond and there were always plenty of kids around," he says with a smile.
He went to Loyola University where he earned his bachelor's degree in biology and later went on to the University of Chicago where he earned a Master's in Business Administration. "The skills and knowledge I learned there have been very useful in the financial aspects of substantial settlements in catastrophic injury cases," he said.
It probably is just coincidental that his wife Cecilia also has an MBA and law degree. Being from the South Side, Rich is an avid Sox fan, but his wife is an avid Cubs fan. They met through a mutual friend at the State's Attorneys' office and got married in 1992, despite their differences in baseball. As for their three children, Ricky, age 8, is a Sox fan. Therese, age 7, is a Cubs fan, and Marie, age 3, also is a Cubs fan because as her dad puts it, "she doesn't know any better." But he's trying to educate her.
Much to his wife's dismay, he took Ricky on a White Sox training camp vacation in Tuscon, Arizona, this year. But he's waiting to see if Cecilia pushes for the North Side team's camp next year.
At the office, Rich has many die-hard fellow Sox fans, but partner Bob Walsh, who is also his brother-in-law, is another Cubs fan. Although they get the families together frequently, they rarely talk "family stuff" around the office because their schedules are so different, and both are constantly on the run to court, to depositions and to see clients.
"My type of work is particularly gratifying, helping people whose lives have been catastrophically altered as a result of serious injury through someone's negligence," Rich says. "Sometimes the most rewarding aspect of my work is comforting and counseling people shortly after traumatic occurrences or incidents when they really don't know where to turn or how to deal with monstrous medical bills, an inability to work, and sometimes they even are unable to engage in basic daily care needs."
"I like to think that Clifford Law Offices is there for people who need us at their worst hour."
And we are glad Rich Burke is around to help others as well.
To view his attorney profile, click here.