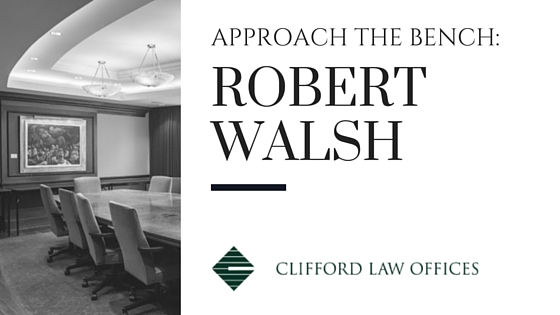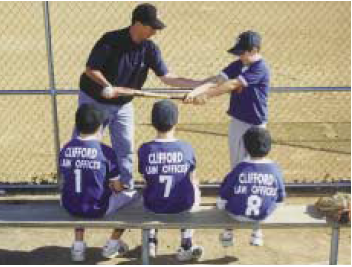 Your friend's sister's mother-in-law was driving her son's van when a plumbing truck, personally owned by the plumber, hit her. He is ticketed.
Two children in the van are seriously hurt-one is the mother-in-law's grandson; the other is his 10-year-old best friend. The son, who owns the van, has limited insurance coverage.
The plumbing company has a $250,000 policy and the plumber has an individual policy for $20,000. Grandma has a million dollar umbrella under insured motorist policy. Can you recover damages? And from whom?
Although the factual scenario may seem a bit complicated, it's the type of question Bob Walsh gets asked routinely. As one of the firm's insurance coverage lawyers, he sorts through the complications and fine print that auto accidents seem to propagate.
"I didn't start out specializing in this area, but the more Clifford Law Offices handled these types of matters, I guess I became the go-to guy," Walsh said. And he is that type of a person-always on the go, juggling a complex caseload which means countless phone calls with clients, insurance adjusters and accident investigators, sandwiched in-between court appearances, depositions and trial preparation.
He started with lead partner Bob Clifford in 1985 as a clerk. Four months later, after his law school graduation on a Sunday morning, he rushed to Northwestern Memorial Hospital to pick up his wife Laura and newborn son. The next day he went to work. It's been nonstop ever since, even in the Walsh household.
He's the father now of four sons-Bobby, Barry, Danny and Casey-ranging in ages from 13 to five. And with all those boys in the house, it's only natural that Walsh is an avid sportsman. He and his wife are constantly carpooling one son or another to everything from football to track, basketball to soccer.
But Walsh readily admits that baseball is the family's first love, particularly when Clifford Law Offices has sponsored the back-to-back championship team that Walsh coached in the western suburbs of Chicago. "We live, eat, sleep and breathe baseball," Coach Walsh says. "And we hope this coming year is a three-peat season."
He and his sister grew up in Elmwood Park; his sister married fellow Clifford Law Offices attorney Richard Burke in 1992 and they have three small children who add to the Walsh holiday fracases.
Walsh played baseball at St. Vincent Ferrer grammar school in River Forest and for Fenwick High School in Oak Park. He graduated from St. John's University in Minnesota in 1981 and decided to coach Little League in Minneapolis. His team won the city championship with an undefeated season against 40 other teams.
But then he decided to go to law school. He bartended his way through school at Loyola University School of Law in Chicago to help pay tuition.
"President Truman once said, you don't get to know people unless you've driven a cab or tended bar. Bartending is one of the best jobs to learn to be a lawyer," Walsh says with a smile. "It teaches you to be a great listener. People open up and you have to listen because you can't run away from them."
And Walsh puts those listening skills to use every day on the job. The results are most impressive.
Last year he received a $1.81 million verdict for a 21-year-old man who broke his neck in an auto accident with a UPS truck, resulting in the largest verdict in Cook County for a person with a fractured vertebrae which did not result in paralysis.
And he has settled four million-dollar plus cases in the last year which also garnered newspaper headlines.
His advice to all of his clients? "Although most everybody carries auto insurance, practically no one understands each and every element of the coverage they have. I have even represented attorneys who didn't know the limits of their coverage."
"Your best bet is to make sure you carry ample under-insured motorists' (UIM) coverage. That way, even if you're hit by someone who doesn't have any insurance or if it's insufficient, you can fall back on your own UIM coverage."
The law in Illinois requires all drivers to carry a minimum of $20,000, but in most cases involving physical injury, that's just not enough, Walsh says.
"Time and time again, I see horrific injuries where the recoverable damages are limited to $20,000 because the injured person assumed the other guy would have enough insurance. But if you have only $20,000, it's difficult to complain that the wrongdoer only has $20,000."
Where does Walsh see this area of the practice heading? "I'm seeing a lot more cases in the collar counties being tried to verdict in amounts that fairly compensate the injured person. The myth that the outlying areas don't fully compensate the injured is being dispelled," says Walsh who has had cases in more than a dozen counties in northern Illinois and even as far away as Springfield, Illinois.
The cases keep him busy from early morning till sometimes late in the evening, but Walsh says he wouldn't give up the frenetic pace-at home or on the job-for anything.
By the way, Bob Walsh's answer to the hypothetical in the beginning: the injured boys should look first to the plumber for his vehicle coverage, then to the plumbing company, and finally turn to grandma's policy for supplementary coverage, if necessary.
To see Robert's attorney profile, click here.