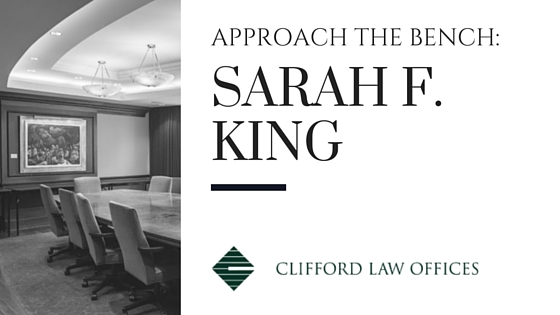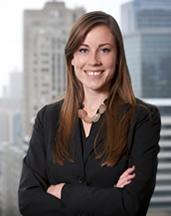 So many of the attorneys at Clifford Law Offices are products of growing up in Chicago's back yard – in its wonderful neighborhoods or the surrounding areas.
Sarah King, associate at the firm, could have been literally anywhere in the world, yet she still found her way to Chicago and 120 North LaSalle Street in a story that perhaps only could come from someone's imagination. But it's true.
Sarah grew up in North Hollywood, the daughter of an executive advertising producer. She occasionally traveled with him to shoot commercials on location for major brands. Yet it was her mother, a paralegal, in whose footsteps Sarah followed.
Since she was barely 10-years-old, Sarah knew that she wanted to be a lawyer. "My mom took me to the office and court a lot. I knew I wanted to do it, although I didn't know exactly what type of law I wanted to practice. I forced my little sister to play my witness in our reenactments of Law and Order," Sarah said of her childhood. "Even in grade school I was drawn to fighting for the 'underdog' and for women's opportunities." In 7th grade Sarah started a signature drive and spoke at a town hall meeting to prevent a local gas station from unearthing buried piping near her school. She also petitioned the Archdiocese of Los Angeles to allow girls to play in the all-boy flag-football league. "I wasn't a huge football fan, but once they granted my petition I knew I had to try out." Sarah made the team and played safety. She was the only girl in the league. Sarah jokes, "I wasn't as big as them, but I was faster and clearly smarter."
When Sarah was 16 – that critical junior year in high school – her grandmother was diagnosed with Alzheimer's and the family decided to move from Hollywood to Kansas City to help her. Sarah took it all in stride, making life-long friends and applying to colleges around the country. She chose Loyola University of Chicago, wanting to return to the taste and feel of a big city, especially after experiencing all the wonders of the Windy City with her dad on a school visit.
After her grandmother died, her parents, at still a relatively young age, did what so many dream of – they leased their house in Kansas and moved to live in the Bahamas on their sailboat, "Pura Vida," meaning "Pure Life" in Latin. That wanderlust, although buried deep inside Sarah who loves to travel, hasn't struck yet because she says there are so many things she wants to accomplish at the firm, given her "workaholic" personality. Enjoy reading her parents' blog and you will get some insight into Sarah as well: http://thepurelfe.blogspot.com/
Sarah worked as a waitress and hostess, majoring in Women's Studies and English with a minor in political science. After graduation, she backpacked through Europe for three months with her best friend from Los Angeles, working her way from Turkey to Portugal in a trip of a lifetime.
She was accepted at DePaul University College of Law and initially thought she would be practicing family law. She even worked for a short time at a divorce firm. "I loved the people I worked for but I knew I wanted to be in the courtroom more. I was at the law library late one night waiting for a friend and flipping through magazines. I spotted Susan Capra's profile. She sounded like she was practicing in an interesting area of law in which a lot of women aren't involved," Sarah said.
She then contacted Susan, partner at Clifford Law Offices and a nurse, who was impressed with her poise, her background, her research and writing skills, and Sarah was hired as a clerk at the firm. Sarah credits her opportunity at Clifford Law to Susan, "Susan is one of the most impressive and inspiring attorneys I know." Sarah said, "But above all she is a great teacher and a selfless mentor."
Upon graduation, Sarah was immediately hired as an associate attorney, finding out that she passed the bar examination while working on a trial with another mentor, Keith Hebeisen, partner at the firm. They were in downstate Carbondale, Illinois, and she checked her test results at 3 a.m. Coincidentally, the case settled the next day.
She said she is very appreciative that Keith, one of the state's most experienced plaintiffs' medical malpractice lawyers, has taken her under his wing and taught her all he knows. "Never once has he ever said I couldn't do something," Sarah said. "I enjoy trying medical malpractice cases with Keith. I think we make a great team." Keith describes Sarah as a trial lawyer with great potential: "Sarah is bright, determined and enthusiastic. She has great instincts and poise. She is destined to be a great trial lawyer."
Indeed, Sarah already has had great success in a courtroom, trying some multi-million-dollar cases alongside Keith and Brad Cosgrove, another partner at the firm – a case of the wrongful death of a young mother who died following a C-section that resulted in a $15.55 million verdict and a trial involving the permanent injury to a young woman who suffered a debilitating stroke following the negligent prescription of the birth control pill Yasmin that resulted in a $13.55 million verdict.
"There should be more women trial attorneys, especially in tragic cases," Sarah said.  "I truly believe that women have a unique ability to connect with jurors and clients. We are effective and empathetic. Our firm handles cases involving childbirth, breast cancer, birth control and other issues personal to women and it takes great resources to take these cases to trial. We are very lucky that Bob Clifford provides us the opportunity to do it."
However, as a young female attorney Sarah has run into many lawyers that are not as encouraging as Clifford and Hebeisen, "A very wise woman once said 'No one can make you feel inferior without your consent.' I think about that quote whenever someone patronizingly calls me 'young lady' during a deposition and I just object louder and work harder to beat them." Her success as a young lawyer is evident in Sarah being named a Top 40 Under 40 Lawyer this year by the Law Bulletin Publishing Company and being elected to the Board of Managers of the Illinois Trial Lawyers Association.
Sarah lives with her two dogs, Bruno and Max, and her long-time boyfriend, Dan, in Wrigleyville. Sarah and Dan are Cubs season ticket holders and she was interviewed opening week this year on Waveland Avenue by a local television station. They also find time to run marathons.
But most of Sarah's time is spent in marathon days at the office, preparing medical malpractice cases for trial on some of the most complex issues- breaking them down for jurors to understand. And she says that's exactly where she intends to stay.
To see Sarah's attorney profile, click here.