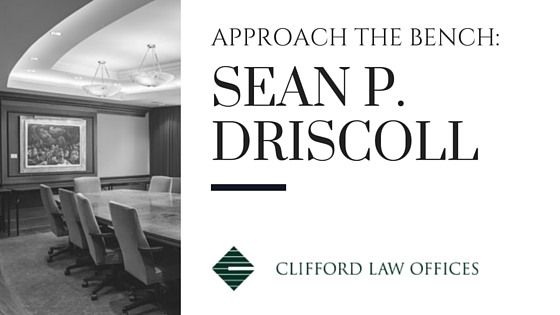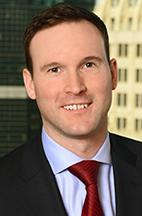 Successful people have mentors in their lives who teach them the ropes, right from wrong, the road to success. With Sean Driscoll, his mentor was his father, James F. Driscoll.
Sean considers himself lucky that he was able to follow in his dad's footsteps. He, too, was a lawyer who handled personal injury cases in the Chicago area.
Sean recalls at the age of 18 being a process server for his father in the northwest suburbs. His dad often appeared in the Cook County Circuit courthouse in Rolling Meadows, recovering for clients what many thought no one else could, Sean said. That is where Sean learned about civil litigation.
Like his dad, Sean does what he loves most – "helping people." His dad taught him, "There are some people who have a hard time taking care of themselves and some people who take care of others. You will be one of those who takes care of others." Sean remembers that as a "profound moment" in his life.
Sean's dream was to one day join his dad's law firm, but, sadly, his father passed away when Sean was attending DePaul University School of Law. But Sean is not one to feel sorry for himself. He decided to build his own career, just as his dad did.
He interned for U.S. Senator Dick Durbin (D­-Ill) and worked on Melissa Bean's campaign for the House of Representatives. "Politics teaches life lessons. It teaches you how to work with people and ideally conduct yourself in an honorable way. Hopefully, it teaches you how to stand your ground," Sean said.
Sean clerked for Illinois Appellate Court Justice Michael Murphy when Justice Murphy was a Circuit Court Judge. He was in college when the $35 million verdict came down in the high­ profile case of Rachel Barton, the internationally acclaimed violinist Bob Clifford represented in a month ­long trial. After the verdict, Sean told his best friend over a beer, "One day I'm going to work for that man."
With the help of his aunt, attorney Joanne Driscoll, Sean contacted Mr. Clifford while in law school and they talked over pizza one afternoon. He continued to remain in contact with Mr. Clifford sending him writing samples in the hope of one day clerking at Clifford Law Offices. Finally, in 2004, Bob Clifford hired Sean as a clerk at the firm during his final year of law school.
Upon being sworn in as an attorney, Sean immediately gravitated toward the complex, difficult cases. His hard work already has been demonstrated in his being named among the Top 40 Attorneys Under Forty by the Law Bulletin Publishing Company.
He has handled cases involving industrial explosions, electrocutions and aviation crashes. He has worked on CTA derailments and is now busy with the tragic case of a young boy suffocated in a grain bin.
Specifically, Sean worked on a case against Metra that led to a $2 million settlement on behalf of a Cook County worker who was injured when the train derailed. He secured a $1.25 million settlement on behalf of a lubricant worker who was severely burned in an industrial accident. Sean also worked side by side with Bob Clifford in a trial that resulted in a $15.8 million verdict on behalf of a young girl struck by a YMCA van and left permanently brain damaged.
"Ten years from now I hope to be at the forefront of plaintiffs' litigation," Sean says. "The best part is working on different types of cases – an explosion one day and medical malpractice the next. I am able to learn about all types of industries and professions that I wouldn't learn anywhere else. You never stop learning in this profession."
And the lessons of his father live on – "I like being the person that someone can turn to when they need help. That's why I decided to be a trial lawyer."
To view his attorney profile, click here.