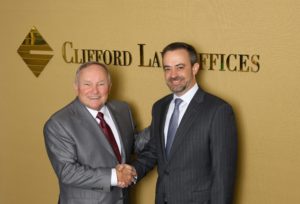 September 16, 2019 (Chicago, IL) – Clifford Law Offices is excited to announce a new addition to its roster of award-winning Chicago-area attorneys. John V. Kalantzis joined the firm on September 9, 2019, bringing with him more than a decade of experience in achieving justice and helping clients get the compensation they deserve when it comes to personal injury litigation.
Born and raised in Chicago, Kalantzis' prior work has focused on commercial financial matters, including commercial litigation and collections, representing individuals and corporations at both State and Federal courts. He also specializes in aviation, motor vehicle collisions, premises liability, police misconduct, and alternative dispute resolution.
As a first-generation Greek American, he has first-hand experience understanding the struggles of immigrants and the importance of both community and education in building those cultures up and helping them assimilate. His work in these areas enriches his legal practice, which is built on care, compassion, and treating each client as he would his own family members.
Prior to joining Clifford Law Offices, Kalantzis worked as an attorney at Chicago-based firm Curcio Law Offices, as a founding partner at Kalantzis Law Firm, and as In-House Counsel at Resurgence Financial. He holds a BA in Economics from Northwestern University and a JD from Notre Dame Law School.
Join us in welcoming John to the company.
About Clifford Law Offices
Clifford Law Offices is ranked as one of the top law firms in Illinois and the country. They are recognized leaders in aviation litigation, complex personal injury, wrongful death cases, medical malpractice, products liability, premises liability, and transportation litigation. Clifford Law Offices also has a reputation in class action litigation, whistleblower cases, and commercial litigation cases. https://www.cliffordlaw.com