Robert A. Clifford took part in a taping for a video being produced to mark the 200th birthday of the Illinois Supreme Court. The video, currently under production, will be shown at the American Judges Association/Administrative Office of the Illinois Courts joint conference in September.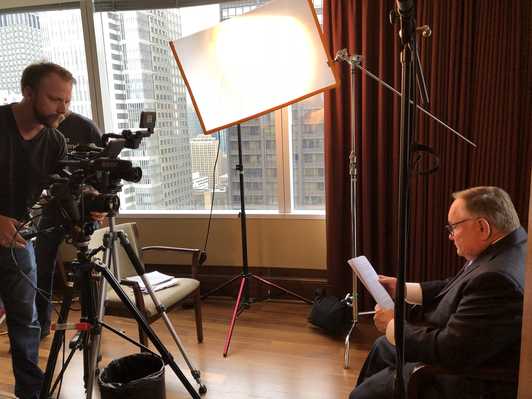 It also will be shown Oct. 9 in Springfield at the bicentennial celebration gala in Springfield. The video focuses on the work of the Illinois Supreme Court Historical Preservation Commission that was formed in 2012 to assist the Court in preserving its rich history. The Commission, on which Clifford serves, produced a series of significant Illinois trials, including the Insanity Retrial of Mary Todd Lincoln in which Clifford participated and was televised on WTTW, Chicago's pubic television station in 2012.
The Oct. 9 gala will celebrate the Court's 200th anniversary with attorney and author Scott Turow as the keynote speaker. The date marks when the Illinois General Assembly named the first four Supreme Court justices Oct. 9, 1818.
Other year-long events have included a traveling exhibit that has been rotating among law schools and colleges throughout Illinois along with a publication that includes a biographical compilation of all 116 justices who have sat on the Illinois Supreme Court bench as well as other publications highlighting the judicial branch.
To view an entire calendar of bicentennial events, click here.