The "weathering" effect has become an important subject of interest in our diverse landscape. Studies have shown that discrimination and bias slowly affect a person's well-being not only emotionally, but also physically, potentially leading to serious health concerns stemming from chronic stress such as increased cortisol levels, sympathetic nerve activity, high blood pressure, cytokine production, and glycated hemoglobin levels.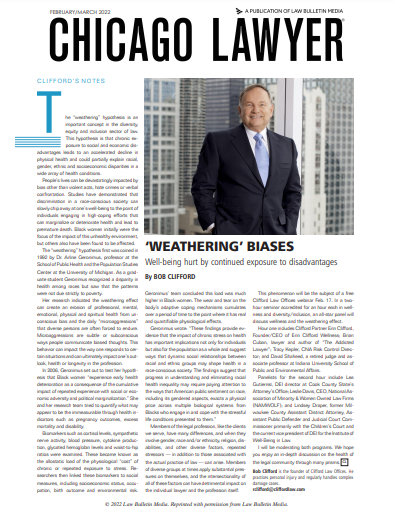 In a recent article published by Chicago Lawyer Magazine, Robert A. Clifford writes about the importance of recognizing this erosion of an individual in a professional setting, specifically in the field of law, and how his firm is bringing awareness to its role in the profession.
On Thursday, February 17, 2022, Clifford Law Offices will host its 15th Annual Continuing Legal Education Program that will consist of two seminars: a Wellness Program and a Diversity and Inclusion Program. One of the many topics of the webinar is the challenges of well-being and the weathering effect in our modern climate. Both programs will be moderated by Bob and include panels of experienced and diverse attorneys who will provide insights, experiences, and beliefs about creating change in the law field. 
For more information or to register for the event please visit the Clifford Law Offices Continuing Legal Education website.