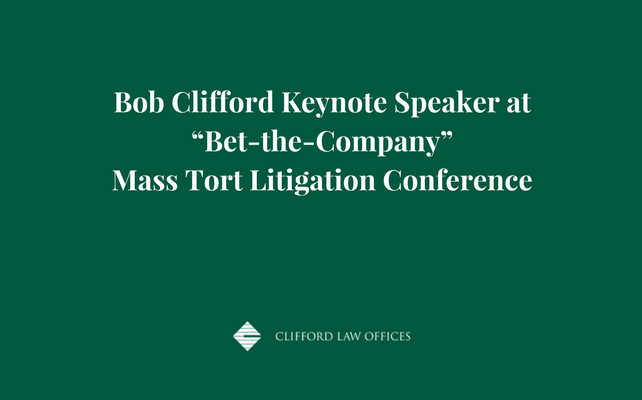 Robert A. Clifford, founder and senior partner at Clifford Law Offices, will be the luncheon keynote speaker at the "Bet-the-Company" Mass Tort Litigation Conference in Chicago May 30. W. Mark Lanier, of The Lanier Law Firm in Houston, Texas, also is a featured keynote speaker.
Sponsored by HarrisMartin, the all-day Multidistrict Litigation Conference will feature speakers on some very timely topics — "Facebook Breach – Is Anyone's Data Safe?", "Framing Jury Themes for Women's Health Litigation" and "Talcum Powder Litigation: Evolving Asbestos Developments."
Clifford Law Offices represents many people in these areas of litigation in its medical malpractice and class action practice areas. Clifford Law Offices partners Kevin P. Durkin and Shannon M. McNulty will be speaking on the afternoon panel entitled "America's Opioid Crisis From the Front Lines: Litigation Landscape, Venues, Jurisdictional Hurdles, Defenses and Causes of Action."
Clifford has been recognized since 1993 by Best Lawyers as one of the top "Bet-the-Company" litigators in the country.
The conference will be held at the Peninsula Hotel, 108 E. Superior St., Chicago, offers continuing legal education credit. To register or for more information, go to https://harrismartin.com/conference/943/MDL_May2018/
A continental breakfast is offered in the morning and the day ends with a networking cocktail reception.