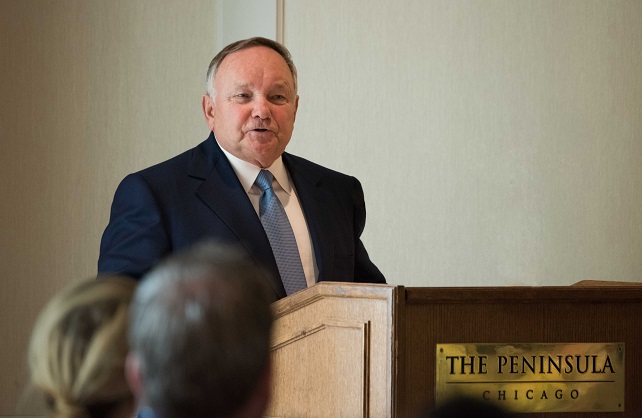 Robert A. Clifford, founder and senior partner at Clifford Law Offices, was the luncheon keynote speaker at the "Bet-the-Company" Mass Tort Litigation Conference in Chicago on May 30th, 2018.
He spoke to the crowd on "Dark Money," which are political contributions for candidates that are made through third-party organizations so that donors remain unknown. Clifford argued for transparency in this political process because, "judicial independence and integrity are vital."
Sponsored by HarrisMartin, the all-day Multidistrict Litigation Conference at the Peninsula Hotel featured speakers on various mass torts including "Facebook Breach – Is Anyone's Data Safe?" to "Talcum Powder Litigation: Evolving Asbestos Developments."
Clifford Law Offices represents many people in these areas of litigation in its medical malpractice and class action practice areas. Clifford has been recognized since 1993 by Best Lawyers as one of the top "Bet-the-Company" litigators in the country.