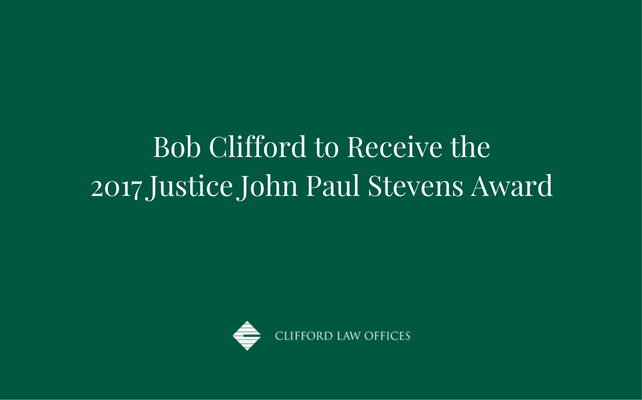 Robert A. Clifford, Founder and Senior Partner at Clifford Law Offices has been selected to receive the 2017 Justice John Paul Stevens Award.
According to the Chicago Bar Foundation, "The Stevens Award is The Association's highest and most prestigious award and is presented annually to lawyers and judges whose career best exemplifies the distinguished career of Justice John Paul Stevens."
This award will be presented on Tuesday, October 10th, 2017, at the Standard Club in Chicago at 11:30 am, followed by an award luncheon.
This year's honorees also include:
· U.S. District Court Chief Judge Ruben Castillo;
· Illinois Appellate Court Justice Nathaniel R. Howse, Jr.
· U.S. District Court Judge Joan Humphrey Lefkow
· Richard J. Prendergast; Larry R. Rogers, Sr., Ronald S. Safer
· Illinois Supreme Court Justice Mary Jane Theis
· Dan K. Webb
Tickets for the luncheon are $75 per person and can be purchased by emailing Tamra Drees at tdrees@chicagobar.org.
Congratulations Bob!