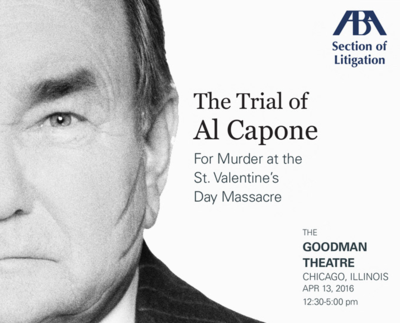 Robert Clifford will participate in the American Bar Association (ABA) mock trial The Trial of Al Capone for Murder at the St. Valentine's Day Massacre. Robert (Bob) Clifford will play the role of Al Capone.
In the mock trial, Capone will stand trial for the 1929 St. Valentine's Day Massacre that allegedly included gang members of the rival North Side. The event will include respected judges and lawyers as well as live testimony from popular characters; this includes Elliot Ness and the original Scarface himself.
This event is sponsored by the ABA's Litigation Section, which is the largest specialty section of the ABA.
The ABA mock trial will take place on April 13, 2016, at the Goodman Theatre. The entrance fee is $25.00. Click here to get your tickets.
Read the press release Robert A. Clifford to Star as Al Capone in ABA Mock Trial here.