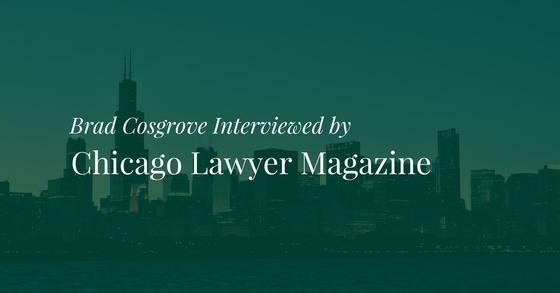 Brad Cosgrove, Partner at Clifford Law Offices was interviewed by Chicago Lawyer Magazine for the article: "Personal-injury law: Trends and challenges." You can read the full article here.
Brad was asked a few key questions and his answers were both informative and poignant.
When asked which longtime personal-injury lawyers do you admire and why, Brad credits a few key mentors and influencers for his success:
"I would say the three most influential people in my life have been Bob Clifford, Keith Hebeisen and John Ambrose." Brad believes that his success with large case awards is directly related to these mentors and their opinion that even fresh out of law school that he had to try cases.
When asked how he deals with the tragedy aspect of the cases he handles, Brad explains his role in helping people who have in many cases suffered horrific injuries:
"I look at each one of these [cases] as a human tragedy. The starting point for me is I understand, if I'm being retained to be the lawyer for a family, it's a human tragedy, it's the highest priority and of the utmost serious nature. It's something that I wake up with in the morning and I go to bed with at night."
Brad expands on the importance of considering his personal injury client's needs – both short and long term. "I know long after our case is over, our clients are going to have to live with the horrific injuries for the rest of their lives. But the thing that always resonates in my mind: While a lawsuit is a temporary piece of time that has a definitive start and a definitive end, this is a loss that – every one of my cases is a lifelong affliction for the people aggrieved by the conduct of someone else."
To learn more about Brad Cosgrove, click here.