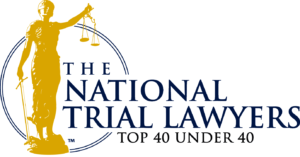 Fair, tough, and a successful advocate for those in need are what Bradley Cosgrove, medical malpractice attorney and partner at Clifford Law Offices is known for. With his reputation, accomplishments and success record, it is no surprise that he has been named to The National Trial Lawyers: Top 40 Under 40 list once again.
Brad started his career as a Chicago trial lawyer. Just one day after he received his law license, he undertook his first trial jury trial on behalf of a woman who was injured as a result of being hit by a car while she legally walked in a crosswalk. Since then, he has had numerous multi-million dollar verdicts and settlements including a $21.5 million record verdict for a 6-year-old boy who drowned while at a public pool during a summer day camp. This is the largest verdict for a drowning victim in the state of Illinois.
Recognizing his superior trial skills, Bradley has received many accolades including The National Trial Lawyers – Top 100 Lawyers in the country, Top 40 Under 40 attorneys by The Law Bulletin Publishing Company (2014), Illinois Rising Star (2006-2020) and was recently inducted into the International Society of Barristers, an invite-only group of less than 750 lawyers around the world.
His latest recognition by The National Trial Lawyers reinforces his reputation in the legal world as it is extended exclusively to those who meet stringent qualifications and specialize in the legal practice of criminal defense or civil plaintiff.
Brad Cosgrove joined Clifford Law Offices in 2013. He has continuously demonstrated intense focus and dedication to his clients throughout his career with us.
Congratulations!