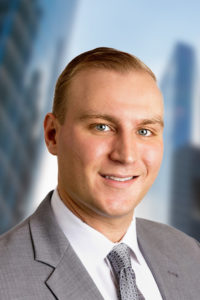 Charles R. Haskins, associate at Clifford Law Offices, was selected as a 2020 40 under Forty honoree by the Law Bulletin Publishing Company. A virtual celebration to honor all honorees was held on Thursday, September 24, 2020, at 4 p.m.
Haskins joined the firm as a clerk during his years at law school and then became an associate in 2016 upon graduation.  He quickly began trial work, having second chaired many complex medical malpractice cases that resulted in record verdicts including serving on the trial team that obtained a $101 million verdict in 2019, the highest in the state last year.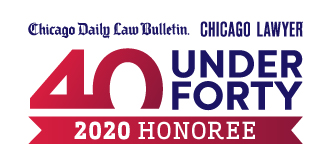 He also worked on a case that resulted in a $21.5 million verdict on behalf of the family of a six-year-old boy who drowned in a public swimming pool and an $8.5 million verdict on behalf of a man in downstate Illinois who was allowed by hospital staff to become dangerously hypotensive, as well as having worked on many complex cases that resulted in large settlements.  His experience for an attorney so young demonstrates his intelligence and acuity as a lawyer.
"We are all very proud of Chuck's accomplishments on behalf of his clients at Clifford Law Offices," said Robert A. Clifford, founder and senior partner at Clifford Law Offices.  "His worth ethic is unparalleled, and he fights zealously for what is right for those who have been victims of wrongful conduct.  It is a well-deserved honor for him."
Haskins, a graduate of Loyola University School of Law where he graduated cum laude.  He graduated with a B.A. from the University of Wisconsin, Madison, with a major in political science and history.
Congratulations Chuck!