In May, the Chicago legal community gathered to honor J. Timothy Eaton of Taft Stettinius & Hollister, honoree of the Illinois Bar Foundation's annual gala.
The IBF is the charitable arm of the Illinois State Bar Association (ISBA). The gala raises money to provide grants facilitating support for lawyers in need during life-changing situations. Clifford Law Offices was a sponsor of the event.  Robert A. Clifford, founder, and senior partner at the firm was the IBF honoree in 2019. The in-person event has been on hold due to the pandemic until this 2022 event.
More than 300 people attended this year's event at the Four Seasons, including an auction for the fundraiser.
Eaton is a highly respected lawyer in the community who gives back to the profession and the city of Chicago in many ways.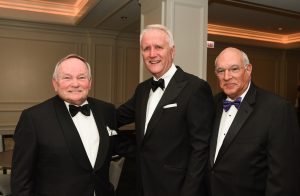 Robert A. Clifford with IBF honoree J. Timothy Eaton (center) and ISBA Past President Mark Hassakis (right). Photo credit: Bill Richert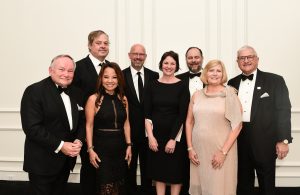 Left to right: Robert A. Clifford, Founder, and Senior Partner, Clifford Law Offices, and Illinois Bar Foundation 2019 honoree; Sonni Choi Williams, City Attorney at City of Lockport and incoming Illinois State Bar Association (ISBA) Second Vice President, and her husband, Dick B. Williams; Shawn Kasserman, partner, Tomasik Kotin Kasserman who will be sworn in as ISBA President-Elect at the June Annual Meeting; Bridget Duignan, Partner, Latherow & Duignan and newly elected ISBA Third Vice President and her husband Jose Rovero; and Sue and Rory Weiler. Rory Weiler will be sworn in as the 146th ISBA President at the Annual Meeting June 9. Photo credit: Bill Richert