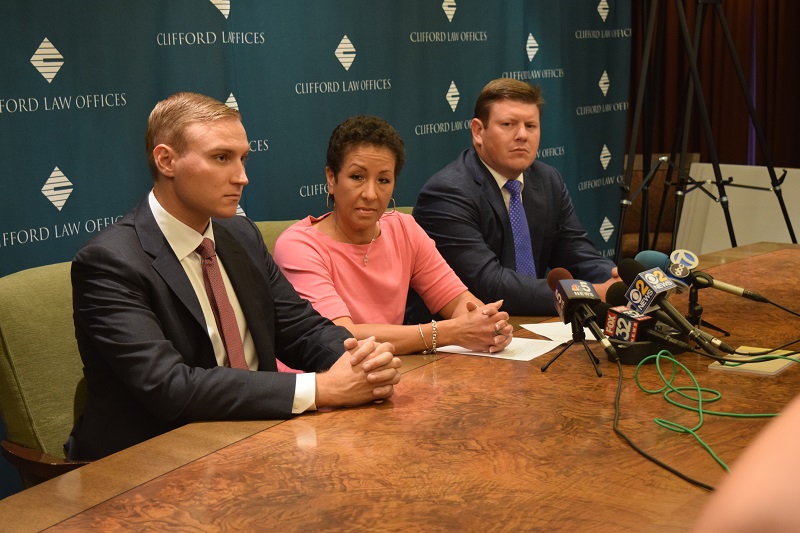 Bradley Cosgrove (right), obtained a record verdict on behalf of a 42-year-old woman who suffered permanent and debilitating injuries when a metal door closer at a Wells Fargo branch office became detached and struck her in the head. The verdict is a record in DuPage County for a single plaintiff in nonmedical malpractice cases.
Amy Skinger (center) of Aurora was entering the Wells Fargo mortgage lender retail office on Fox Valley Road in Aurora on May 14, 2012, when without warning a the metal door closer unit detached, swung and struck her in the head, knocking her to her knees, and severely aggravating her pre-existing spondylosis. A six-man-five-woman jury returned the verdict in two hours in DuPage County before Judge Kenneth L. Popejoy in Wheaton following a two-week trial. The jury found Wells Fargo, who was responsible for the maintenance of the door per the terms of a lease, 80 percent at fault and Cannella NY Square, LLC, the owner of the property, 20 percent at fault.
Charles R. Haskins assisted at trial.
Cosgrove and Haskins received a $3 million verdict Nov. 20 on behalf of an Elmhurst family when a 52-year-old husband and father died following medical professionals' failure to diagnose a pulmonary embolism that occurred about six weeks following surgery on a tendon in his leg. Susan Capra worked up the case.
______________
For further information, please contact Clifford Law Offices Communications Partner Pamela Sakowicz Menaker at 847-721-0909.