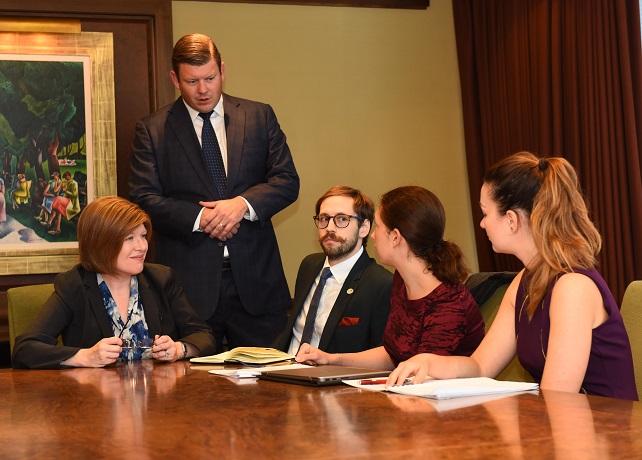 Shannon McNulty (far left), partner at Clifford Law Offices who heads the firm's class action practice, sat down recently with a delegation from the Czech Republic, which spent 10 days in the United States to learn about class action lawsuits in America.
McNulty, along with Clifford Law Offices' partner Bradley M. Cosgrove (standing), who also handles major cases at the firm met the group. For more than an hour, McNulty reviewed the class action process with three representatives from the Czech Republic (left to right): Adam Hexner, Anezka Janouskova and Katerina Hamackova, all lawyers in their country.
"When a large data breach or action involving a number of people happens, like in the recent EQUIFAX data breach, Clifford Law Offices receives about 20 calls an hour," she said. "The law hasn't caught up to people's fears."
Clifford Law Offices has filed a class action in that matter as well as in the defective Pella windows, cancer-causing talcum powder, the VW worldwide scandal involving diesel-powered vehicles and numerous other state and federal class actions.