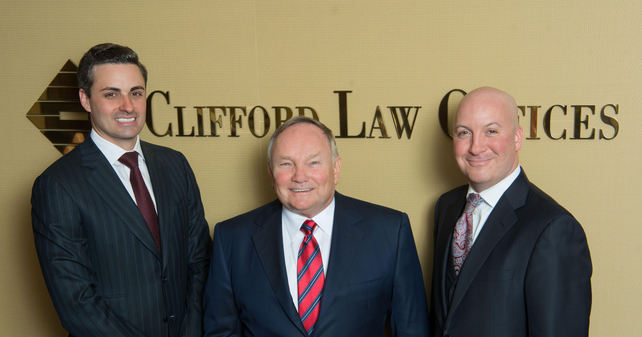 On April 2rd, 2018, Clifford Law Offices named two new lawyers as partners at the firm.
Jack J. Casciato, formerly of a large insurance defense firm in Chicago, was named a partner at Clifford Law Offices. He graduated from the University of the District of Columbia David A. Clarke School of Law. He has extensive experience in complex, multi-party litigation including transportation accidents in state and federal courts.
Craig J. Squillace, associate at Clifford Law Offices since 2002, was promoted to partner. Squillace, who most recently received a record settlement of $4 million in Will County, concentrates his practice in the area of vehicular and trucking accidents at the personal injury firm. He also has experience in medical malpractice, product liability and municipal liability. Squillace is a graduate of John Marshall Law School. He was named a Top 40 Under 40 Attorney by the Law Bulletin Publishing Company in 2008.
_____________
For further information, contact Clifford Law Offices' Communications Partner Pamela Sakowicz Menaker at 847-721-0909.