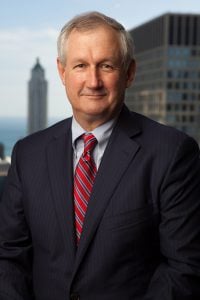 Robert P. Walsh, Jr., partner at Clifford Law Offices, on October 28, 2021, obtained a $128,622 verdict in Cook County in an automobile accident case, the third successful verdict in the last four months at the firm.
The verdict comes on the heels of two previous successful verdicts, one for $1.1 million in Winnebago County and another in DuPage County for $3.35 million, both medical malpractice cases.
The verdict comes following a four-day trial involving a rear-end crash in Streamwood that resulted in herniated discs in a 47-year-old woman from South Elgin. The eight-man-four-woman jury deliberated for two hours before determining damages in the case.
Cook County Circuit Court Judge Joan Powell presided over the case in what was the judge's and counsels' first civil trial since the pandemic began. This is one of the first civil jury trials as Cook County begins to reopen the jury trial process. The verdict, which was in excess of the insurance policy limits, will include pre-judgment interest as applicable under the newly signed law in Illinois.
The other two successful verdicts earlier this year at Clifford Law Offices involved a record $3.35 million obtained by partner Bradley M. Cosgrove and associate Charles R. Haskins in June following a two-week trial in Wheaton against a neurologist who negligently treated a brain tumor in a 33-year-old woman as migraines. (Case No. 2016 L 613)
In June of this year, partners Keith A. Hebeisen and Sarah F. King obtained a $1.1 million verdict on behalf of a 75-year-old man who died following a negligent cardiac catheterization procedure in Rockford. This was the first Winnebago County civil jury verdict in 16 months for a case that had been on hold due to the pandemic. (Case No. 2018 L 251)
For further information, please contact Clifford Law Offices Communications Partner Pamela Sakowicz Menaker at 847-721-0909 (cell).