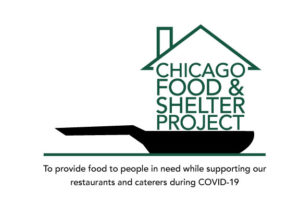 Clifford Law Offices and its attorneys are demonstrating their compassion for those in need of food and shelter during the coronavirus pandemic. Attorneys have joined together to help feed families in need through Clifford Law Offices' Food and Shelter Project and donated thousands of dollars to send catered meals from local restaurants to homeless shelters throughout the city.
Sarah F. King, Erin E. Clifford and Keith A. Hebeisen, partners at Clifford Law Offices, are spearheading the effort to help. So far, the firm has sent meals from local restaurants and caterers to residents of Sarah's Circle on the north side and Primo Center for Families on South Western Avenue. Thanks to the generosity of Clifford Law Offices and its attorneys, meals are being sent daily to shelters around the city including Lincoln Park Community Services (LPCS) at Fullerton, LPCS Sedgwick, Primo Center and Sarah's Circle.
"It is important that while all of us at Clifford Law Offices are continuing to work on behalf of our clients, we reach out to our neighbors struggling during this time. We thought what a better way to support local restaurants and caterers who need business by sending meals to shelters that need food." King said. "We are very fortunate to be in a position where we can help those in need during this crisis, thanks to the outstanding leadership of Robert Clifford. Inspired and encouraged by his compassion, we are able to help provide food and shelter, the most important things right now for Chicagoans in need."
Through its efforts to feed the hungry, Clifford Law Offices Food and Shelter Project also is supporting local restaurants by providing them customers to keep their businesses going.
"I am proud of the attorneys and staff at Clifford Law Offices who continue to work round-the-clock during this crisis on behalf of their clients, always pushing to figure out ways to do the very best for those who have been injured or for the families of those who lost loved ones due to wrongful conduct," said Clifford, founder and senior partner at the firm. "For them to go the extra mile to help those impacted by COVID-19 and the pandemic personifies the lawyers at the firm – always stepping up to do more for and give back to the community. It makes me very proud."
If you know of a restaurant or shelter in need please contact Sarah F. King at SFK@cliffordlaw.com
Clifford Law Offices has a tradition of helping the community in times of need, as can be found on its website at "Giving Back": https://www.cliffordlaw.com/giving-back/