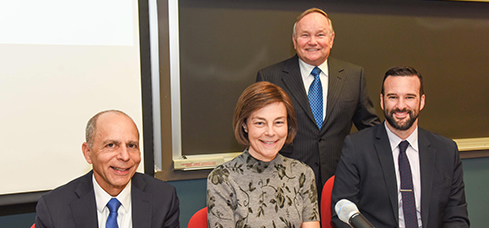 Clifford Law Offices' 10th continuing legal education program, "Social Media Ethics Outside and in the Courtroom," was held February 16th, 2017. More than 3,000 Illinois lawyers attended the free two-hour webinar held at DePaul University.
Robert Clifford (standing) served as moderator for the program that offered two hours of professional responsibility credit. Panelists included the (center) Hon. Lynn M. Egan of the Cook County Circuit Court; (right) Mark C. Palmer, Professionalism Counsel of the Illinois Supreme Court Commission on Professionalism; and (left) John M. Barkett, partner at Miami's Shook, Hardy & Bacon and a prolific writer and presenter on this topic.
The panel discussed the very timely issue of social media and how the courts are grappling with preservation of or access to information on social media sites as well as how lawyers should conduct themselves consistent with the Model Rules of Professional Conduct.