Clifford Law Offices, along with their co-counsel, received the 2019 Trial Lawyer of the Year Award from Public Justice on Monday, July 29 at Public Justice's Annual Gala and Awards Dinner in San Diego.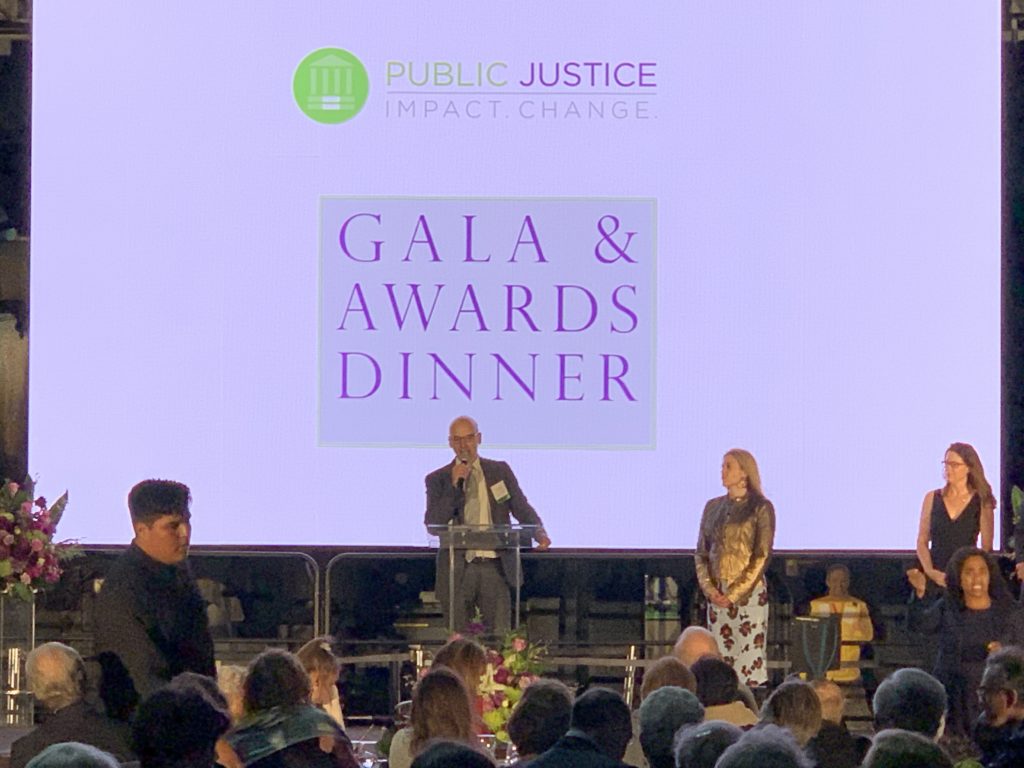 Lieff Cabraser partner Robert J. Nelson accepts the 2019 Trial Lawyer of the Year Award from Public Justice on behalf of the State Farm team with Erin Clifford, Director of Marketing and Business Development at Clifford Law Offices.
The team was recognized for their work in the $250 million settlement in Hale v. State Farm Insurance, a case that spanned 20 years and involved an underlying case where the insurance company quoted or replaced lower quality automotive parts from non-brand manufacturers to repair vehicles of about 4.7 million policyholders in the 1980s and 1990s. It ultimately became a court battle over Dark Money and the Illinois Supreme Court.
The settlement delivers immediate relief to class members who have been waiting 20 years and employs an automatic distribution process that will pay 1.5 million class members without the need to submit a claim.
The lawyers and firms involved in Hale v. State Farm are: Robert Clifford, Kevin Durkin and Kristofer S. Riddle, Clifford Law Offices, Chicago, Ill.; Elizabeth Cabraser, Robert Nelson, and Kevin Budner, Lieff Cabraser Heimann & Bernstein LLP, San Francisco, Calif.; Steve Blonder, Much Shelist, Chicago, Ill.; Tom Thrash, Thrash Law Firm, Little Rock, Ark.
Other counsel included Gordon Ball of Ball Law Firm, Brent Landau of Hausfeld, LLP, Don Barrett and Richard Barrett of Barrett Law Firm; Patrick Pendley of Pendley Baudin & Coffin, LLP, and Erwin Chemerinsky, Berkeley Law School.
Congratulations to everyone on the State Farm team!