An independent research study done by several respected law schools rated Clifford Law Offices #2 out of 1317 law firms in Illinois between 2000 and 2010. Its 1st Tier firm ranking is the top 1.7% of the most successful med mal firms in Illinois, judged by total recovery. Only 22 firms made the 1st Tier.

In the 1st Tier group, Clifford Law Offices had the highest cases per year and the eighth highest success rate at 51%.
The personal law firm run by Kenneth C. Chessick M.D., Of Counsel at Clifford Law Offices, ranked 9th in the list. Clifford Law Offices joined with the Law Office of Kenneth C. Chessick, MD, a few years ago. The 22 1st Tier firms account for 18.9% of cases and 45.4% of recoveries.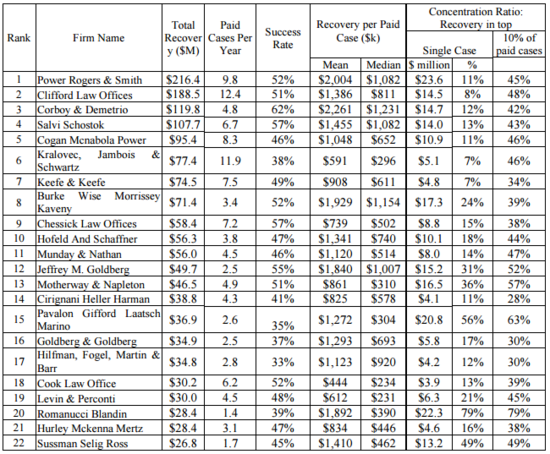 This independent study was done by University of Illinois College of Law, Sharif University of Technology, University of Texas at Austin – School of Law, and Northwestern University – School of Law; Northwestern University – Kellogg School of Management; European Corporate Governance Institute (ECGI).
Congratulations to Clifford Law Offices and Dr. Chessick.
Click here to view the full report.