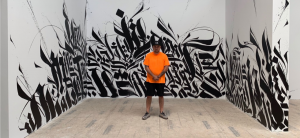 Our Offices Facilities Co-Manager, Tim Alamillo (AKA "Tubs"), is a talented artist and designer. He created a mural installation piece for the 2021 movie, Candyman. The film is a story of an artist who becomes fascinated with the urban legend of a killer. It is sequel to the first film, which took place over 25 years ago.
"I am super grateful to have the opportunity to paint an original mural for the new Candyman movie," Tim says. He adds, "When Jordan Peels company, Monkeypaw Productions, asked me to be one of the Chicago artists featured in its new and upcoming film, it was a dream come true. To have my work on the big screen and represent my culture and city all once was an amazing experience. I am looking forward to creating more."
Congratulations, Tim!