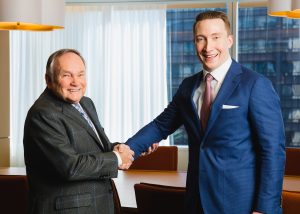 Joseph T. Murphy has been hired as a partner at Clifford Law Offices. Formerly, Murphy was a Cook County Assistant State's Attorney, Special Assistant U.S. Attorney for the Department of Justice, and Chief of Federal Litigation for the U.S. Army's 101st Airborne Division at Fort Campbell where he served as an active-duty Captain. Joe presently serves in the U.S. Army Reserve.
Joe received his law degree from the University of Illinois at Chicago and obtained a Bachelor of Arts degree in history from Illinois Wesleyan University.
"We are very excited to have Captain Murphy join our firm," said Robert A. Clifford, founder and senior partner Clifford Law Offices. "As a federal and state prosecutor and as a military attorney, he brings a depth of knowledge from his decade-long experience in so many areas of law. He is a decorated officer and we are very proud of his commitment to everything he does."
During his time with the military, Joe has been awarded the Army Commendation Medal for meritorious service as well as the Army Achievement Medal, National Defense Service Medal, Global War on Terrorism Service Medal and the Army Service Ribbon.
He is engaged to be married in September 2022 to Kelly Weber, Area Vice President of AdTheorent, an advertising technology company in Chicago. They will reside in Wicker Park.
For further information, please contact Clifford Law Offices Communications Partner Pamela Sakowicz Menaker at 847-721-0909 (cell).