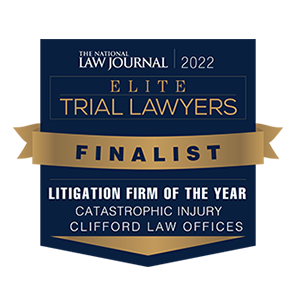 Clifford Law Offices has been named a 2022 Elite Trial Lawyers Finalist by The National Law Journal in the category of Catastrophic Injury.
The Elite Trial Lawyers awards recognize the exceptional work of law firms in a high-stakes bench or jury trial, or in a major settlement, and who perform advanced work on behalf of plaintiffs. Hundreds of entries from plaintiffs' law firms across the United States were considered before making it to the competition's final round with the winners in 28 award categories representing various practice areas of plaintiffs' personal injury law.
Law firms who were selected are recognized through peer nominations and surveys as well as written documentation which is all evaluated based on an extensive list of criteria including:
● Scoring a significant plaintiffs win between Jan. 1, 2021, and Jan. 1, 2022
● Demonstrating an impressive record of wins over the last three to five years
● Devoting a minimum of 50 percent of litigation resources to plaintiffs' work
● Showing innovative approaches to case resolution
Although courts remain tentative in opening in Cook County, Illinois, and throughout the nation, Clifford Law Offices has been very active both inside the courtroom and out working on behalf of their clients and the legal profession. In the last year, Robert A. Clifford, founder and senior partner of the firm, has served as Lead Counsel in the pending litigation in federal district court in Chicago against Boeing Corporation in the crash of a 737 MAX aircraft in Ethiopia in 2019 that killed all 157 on board. The firm represents more than 70 families across the world who lost loved ones. Clifford Law Offices also represents more than 44 people of the 141 passengers on an Amtrak train that derailed in Montana in September 2021. In the last year, lawyers at the firm have tried six cases to verdict and all have been successful for the plaintiffs including a trial that resulted in an $18.15 million verdict.
As a finalist, the firm has secured a spot in the competition's final round of selections. Winners from all 28 award categories will be announced at the Elite Trial Lawyers awards ceremony in July 2022 at a ceremony in New York.