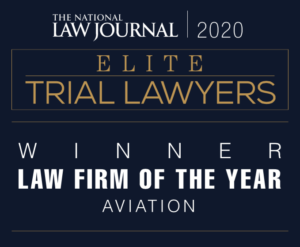 Clifford Law Offices was named Aviation Law Firm of the Year in 2020 by The National Law Journal.
The award is part of the 2020 Elite Trial Lawyers annual recognition, following extensive research since 2015.
The award comes on the heels of Robert A. Clifford, founder and senior partner of Clifford Law Offices, being named Lead Counsel in the March 10 crash of a Boeing 737 Max8 airplane in Ethiopia. Clifford Law Offices represents dozens of victims' families in the litigation pending in federal district court in Chicago where more than 100 consolidated cases are pending.
The honorees accepted these awards on Jan. 20 in Miami, Florida, as part of The National Trial Lawyers Summit, a conference formed in 2012 to share new methods and educational matters for the plaintiff and criminal defense bar across the country.
Elite Lawyers recognizes U.S.-based law firms "that have formed exemplary and cutting edge work on behalf of plaintiffs since 2015."