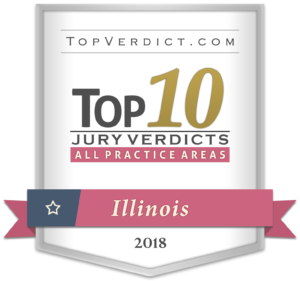 Clifford Law Offices has been listed in Top Verdict's "Top 10 Verdicts in Illinois in 2018" list.
Listing #7
Amount: $21,500,000.00
Attorneys: Robert A. Clifford, Bradley M. Cosgrove, and Charles R. Haskins of Clifford Law Offices, P.C.
Case: Estate of M.D. v. Justice Park District, et al.
This was a $21.5 million verdict on behalf of a family whose son drowned on a weekly trip to the Bridgeview Park District Pool. The verdict was the highest for a drowning in the state of Illinois. It was also the highest in the state for the death of a minor excluding medical malpractice and child abuse cases.
Top Verdict's site states, "At TopVerdict.com, we recognize U.S. law firms and attorneys who have obtained one of the highest jury verdicts, settlements, court or arbitration awards in the Nation or an individual State, in a particular area of law, and year."
Our personal injury law firm's experience has earned us noteworthy cases and settlements. You can view some of our verdicts and settlements here.
You can view the "Top 10 Verdicts in Illinois in 2018" list by clicking here.