James C. Pullos, partner at Clifford Law Offices, values fighting for justice on behalf of those people harmed and always acts with a sense of urgency to hold wrongdoers accountable.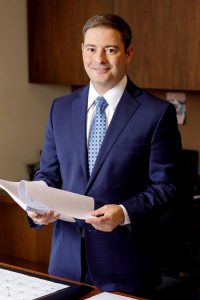 Jim's philosophy on litigation is based on integrity and hard work for his clients. His strong work ethic and sense of social justice were shaped while he was working his first jobs – at his family's restaurant and as a union railroader.
He attended Marquette University followed by DePaul University of Law and then received his MBA from the University of Chicago's Booth School of Business.
After attending law school, Jim served 14 years in the Cook County State's Attorney's Office where he worked on complex matters including wrongful death, highway negligence, civil rights, labor and employment, medical deliberate indifference/medical negligence, class-action, criminal and other significant tort matters.
As a result of Jim's hard-work, judgment, and successful results he was promoted to lead two of the most complex and busiest litigation practice groups in the Civil Actions Bureau as Supervisor of Torts and Civil Rights Division and Supervisor of Labor and Employment division.
He always knew he wanted to work at a plaintiff's law firm helping those in their greatest time of need and Clifford Law was at the top of his list.
"I knew I wanted to be a lawyer since I was eight years old. And Clifford Law Offices was always my top choice because of its respect in the legal community and the entire Chicago area for what Bob Clifford and the lawyers here have accomplished and how they treat their clients."
– James C. Pullos
Jim has tried more than 50 cases to verdict and hundreds of bench trials and hearings in federal and state courts, he earned numerous favorable verdicts representing police officers from the Cook County Sheriff's Office in civil lawsuits in federal court, has prepared numerous state and federal appellate briefs and presented oral arguments before the Seventh Circuit Court Appeals.
While at Clifford Law Offices, Jim has worked on behalf of individuals and families whose lives have been forever impacted.
We are honored to have James Pullos; a passionate attorney who is persistent in an effort to earn his clients the justest case resolution, as a partner at Clifford Law Offices.