Susan A. Capra, partner at Clifford Law Offices, is a compassionate and dedicated attorney, always advocating for the patient.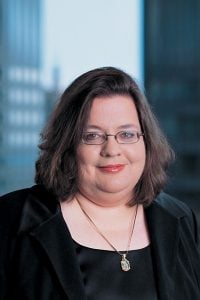 Susan's career path reflects her compassion for others. As an undergraduate, she studied nursing and worked for years as a registered nurse at Children's Memorial Hospital in Chicago. She joined Clifford Law Offices in 1989, having graduated with Honors from DePaul University College of Law in Chicago in 1990.
Susan's nursing experience gives her a unique advantage that sets her apart from other lawyers because she was able to see and understand the effects of the patients' injuries firsthand in the hospital, subsequently making her more determined to get patients' justice in the courtroom. 
"As a nurse, I was the patient's advocate. As a medical malpractice attorney, I am still the patient's advocate but in a different area and profession."- Susan A. Capra
Susan exhibits the dedication that Bob Clifford looks for in his partners at the firm."Susan Capra consistently demonstrates unwavering loyalty to her clients, colleagues, and friends," Mr. Clifford said. "It's a privilege to have her as my partner and all of our lives are enriched by her."
Susan's dedication to her clients is shown through her work ethic. She has developed a reputation in medical malpractice circles for working tirelessly behind-the-scenes to get into the necessary details of what occurred during a patient's treatment. 
That dedication to her work has paid off, having received million-dollar verdicts and settlements for obstetrical, gynecologic, and pediatric negligence cases. Susan has been recognized as a Leading Lawyer and a Super Lawyer, having been profiled for her outstanding legal accomplishments in very difficult and complex medical malpractice cases.
We are honored to have Susan Capra; a dedicated, intelligent, and compassionate advocate, as a partner at Clifford Law Offices.