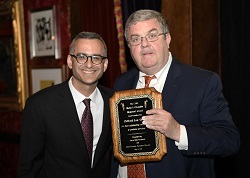 Clifford Law Offices has been selected as the 2018 Chicago Legal Clinic (CLC) recipient of the Charles J. O'Laughlin Memorial Award. The firm was recognized at the CLC's 37th-anniversary fundraising dinner, "A Justice Social," on May 8th.
The award is named for Charles J. O'Laughlin, a founding board member of CLC after he retired as a partner at Jenner & Block. The CLC provides legal services to the underserved and disadvantaged throughout the Chicago area in areas of law such as employment, adoption, bankruptcy, immigration and landlord/tenant issues.
Lawyers, judges and civic leaders were in attendance to honor the pro bono organization. Previous recipients of the award include Mayer, Brown & Platt; Sidley & Austin; Winston & Strawn; Gardner Carton & Douglas; and Jenner & Block.