Clifford Law Offices was a 4-Star Sponsor of the 8th Annual Chicago Fire Fighters Picnic on Sunday, July 17. The picnic raises money for troops wounded in battle and donates specially equipped automobiles to soldiers with leg or arm amputations.
Bradley Cosgrove, partner at Clifford Law Offices, has volunteered at the Chicago Firefighter's Union picnic every year since its inception eight years ago. He grew up in a family of firemen. His grandfather, father and uncle were Chicago firefighters and his brother is an active Chicago firefighter on Engine 116, Local 2.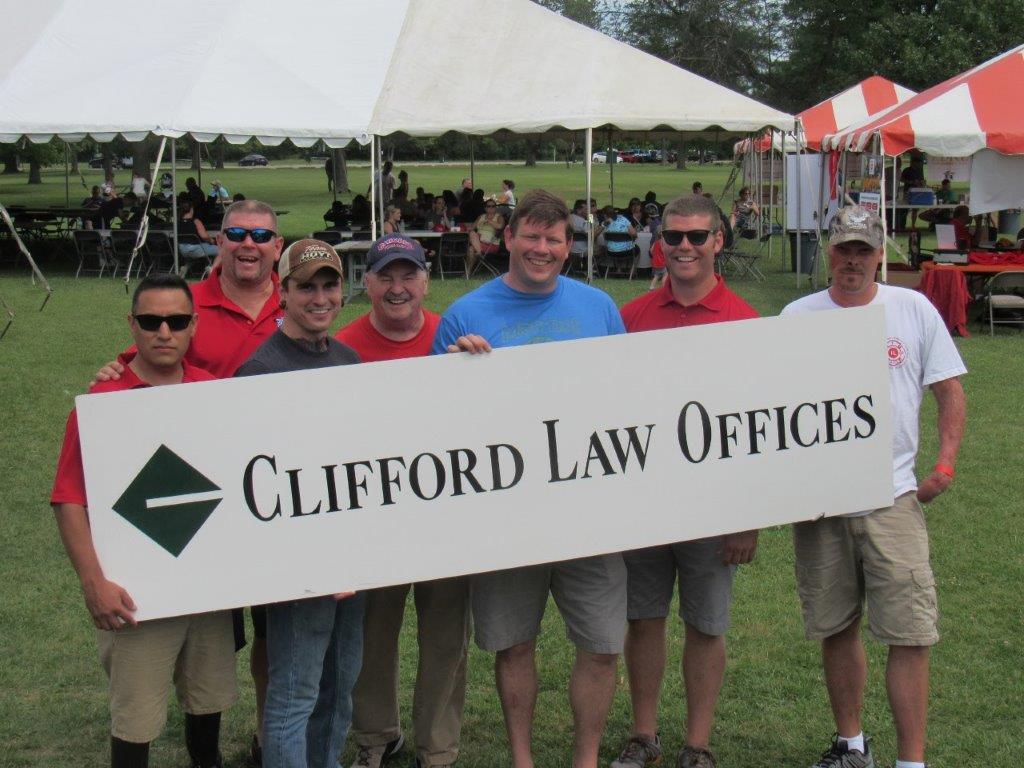 (Pictured left to right) Sergio Lopze, U.S. Army veteran from Joliet who was injured in his tour in Iraq; Tim O'Brien, Chair of the statewide organization that helps injured vets — every year a car is given to a veteran who otherwise couldn't afford it. Charles Legon from West Frankfort, IL, Army Specialist injured in Afghanistan; Bill Cosgrove, retired firefighter from Chicago Local 2 and dad to Brad Cosgrove, partner at Clifford Law Offices standing next to him; Noah Malard who also works with the statewide organization in organizing these fundraisers; and Dusty Hill of Rock Island area who was injured in an explosion while in Iraq.
This year, five cars were donated to soldiers with special needs. The picnic benefits the Wounded Warrior Project, Wounded Heros, the Disabled Patriot Fund, the Injured Semper Fi Fund, Brave Hearts, Operation Support Our Troops America, Tribute to the Troops, Wounded Wear, the American Red Cross, the Marine Corps Scholarship Foundation and the Illinois Veterans Foundation.