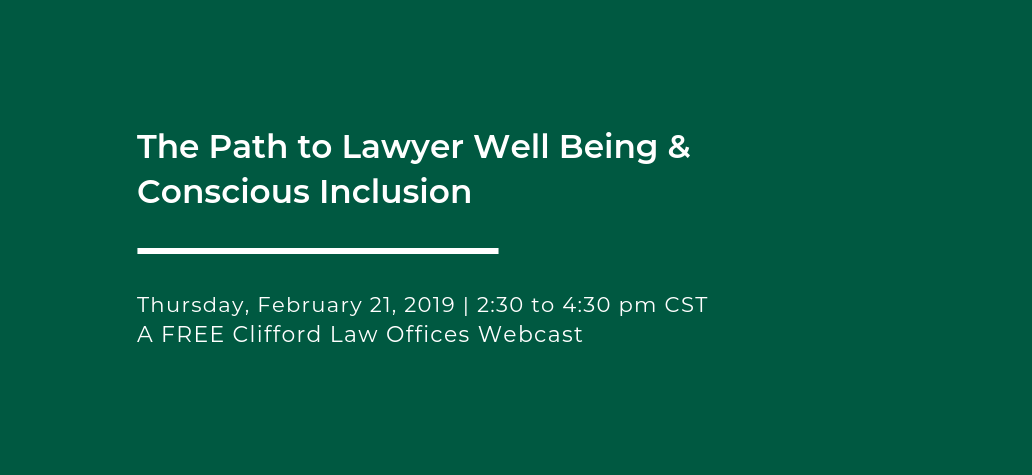 In response to the new Illinois Supreme Court requirements regarding professional responsibility credits required starting this year on wellness and diversity/inclusion, Clifford Law Offices is offering a free two-hour webinar program that fulfills these requirements 2:30-4:30 p.m. Thursday, Feb. 21.
Already more than 2,500 lawyers have registered for "The Path to Lawyer Well Being" and "Conscious Inclusion," two one-hour programs that have been approved for professional responsibility credit in the two specific areas that lawyers are now required to report starting in June.
Robert A. Clifford, founder and senior partner at Clifford Law Offices, will moderate both hours. The panel for the first hour include Loyola University School of Law Associate Dean for Administration Dean James Faught who also served as Chair of the Chicago Bar Association's 2018 "The Future of the Practice of Law in Chicago." Other panelists who will address the critical issue of wellness in the profession include Lawyers Assistance Program (LAP) Executive Director Robin Belleau, American Bar Association (ABA) Director of the Center for Professional Responsibility Tracy Kepler and the Honorable E. Kenneth Wright, Presiding Judge of the Cook County Municipal Division and Chair of the Illinois State Bar Association's Wellness Committee. Karen Munoz, attorney at Dolan Law and yoga instructor, will provide five minutes of chair yoga exercises for participants to learn.
The second hour, "Conscious Inclusion," includes panelists Hon. Thomas More Donnelly of the Cook County Circuit Court and Chair of the Illinois Judicial College Board of Trustees, the educational arm of the Illinois Supreme Court; Josie M. Gough, Loyola University School of Law Director of Experiential Learning and member of its Diversity Council; Cunyon Gordon, Senior Counsel and Director of the Settlement Assistance Program for the Chicago Lawyers Committee for Civil Rights; and Allison Wood, Principal of Legal Ethics Consulting and former Hearing Board Chair and litigation counsel with the Attorney Registration and Disciplinary Commission (ARDC).
This interactive program that will be polling the attendees on various issues will be conducted through hypotheticals. It will discuss practical steps that can be taken by lawyers, law firms, bar associations, judges, legal educators and regulatory counsel to shift the legal culture from one that can be self- destructive to one that focuses on well being. Participants also will learn ways to foster healthy lifestyles with their practice settings and at home.
To register or for more information, go here: https://cliffordlawcle.com/.
Starting this year, Illinois lawyers are required to attend one hour of mental health and substance abuse as well as one hour of diversity and inclusion classes in order to successfully complete their mandatory continuing legal education requirements. Illinois is among the first states in the nation to require these courses, demonstrating a real concern for the health of individual lawyers and the profession.