Web Release November 17, 2014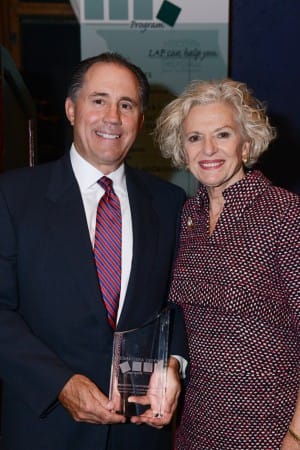 Judge Simmons (Ret.) and Illinois Supreme Court Justice, Anne M. Burke.
Judge Henry Simmons (Ret.) Receives Judge of the Year Award by Pro Bono Organization
Judge Henry Simmons (Ret.), Managing Partner at Clifford Law Offices, received the John Powers Crowley Award for Judge of the Year by the Lawyers Assistance Program (LAP) for his volunteer work with the organization.
Judge Simmons (Ret.), along with hundreds of others, gathered at the Union League Club where the keynote address was delivered by Illinois Supreme Court Justice Anne M. Burke.
Other recipients included the Hon. James M. Wexstten (Ret.) who received the President's Award and Tressler LLP who was given the Carl H. Rolewick Award.
Lawyers Assistance Program is a not-for-profit organization that provides assistance to lawyers, judges, law students and their families with alcohol abuse, drug dependency or mental health problems including education, peer assistance, intervention, information and referral.
Judge Simmons (Ret.) has been involved in LAP for six years, particularly in the intervention area of help to the legal community.
_________________
For further information, please contact Clifford Law Offices' Communications Partner Pamela Sakowicz Menaker at 847-721-0909. www.CliffordLaw.com